Parastou Einafshar (Paris), MD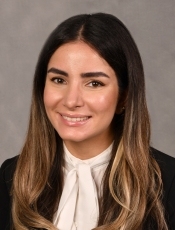 Hometown: Toronto, Canada
Medical School: St. George's University
Professional Interests: Endocrinology/ Rheumatology
Personal Interests: Travelling, playing piano, baking, trying out different restaurants
Languages spoken, other than English: Farsi
What do you like about the residency program? I chose Upstate because of the diversity of the patient population, the program's atmosphere, and the support you are given from the faculty and your co-residents. I wanted to complete my residency at an institution where there would be a balance between clinical and academic medicine and where your future goals would be taken into consideration during your training years. Living in Syracuse also allows me to visit my family back home in Toronto.