Robert Roger Lebel, MD, FACMG, Chief, Medical Genetics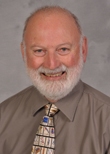 Dr. Lebel holds BS and MS degrees in Zoology (University of Massachusetts), MA in Philosophy (Boston College), MDiv and STM (Medical Ethics) from the Theological Union in Berkeley, CA, and MS (Medical Genetics) and MD from the University of Wisconsin, Madison. His residency (internal medicine) and fellowship (medical genetics) were at the Milwaukee campus of the UW Medical School, where he served on the faculty in the departments of Ob/Gyn and Medicine until opening a private practice in Illinois. He has served on the faculties of Benedictine University (Lisle, IL), Rush-Presbyterian St. Luke's Nursing School (Chicago, IL), Clemson University (Clemson, SC), and Syracuse University (Syracuse, NY). From 2003 to 2008 he was Senior Geneticist at the Greenwood Genetic Center, Greenwood, SC, where he was director of the programs for Adult Genetics, Medical Ethics and Fetal Pathology.
Since June 2008, Dr. Lebel has been Professor of Pediatrics, Internal Medicine, Obstetrics/Gynecology and Pathology, and lecturer in Bioethics and the Humanities at SUNY Upstate Medical University. He serves as chief of the Section of Medical Genetics. He has over 230 publications in basic science, clinical syndromology, medical ethics, etc., and has served in editorial roles for several journals and books, and on a variety of national committees of the American College of Medical Genetics, the American Society of Human Genetics, and the Evangelical Lutheran Church in America.
Joan Pelligrino, MD, Associate Professor, Medical Genetics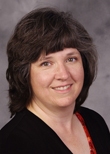 Joan Pellegrino graduated from medical school at the SUNY Health Sciences Center at Syracuse in 1990, then completed her pediatric residency at Strong Memorial Hospital at the University of Rochester. She completed a three-year fellowship in Medical Genetics at the Children's Hospital of Philadelphia and remained there for another research year. She was practicing in New Jersey and moved to Upstate Medical University in 2005. She is the director of the Inherited Metabolic Diseases Specialty Center at Syracuse.
Dr. Pelegrino sees patients for both genetic evaluations and metabolic diseases. She evaluates newborns who screen positive for metabolic disorders from the state newborn screening program. She also cares for those individuals with a diagnosis of an inborn efrror of metabolism in the metabolic program. She is interested in lysosomal storage disorders and participates in a research project for this cohort of individuals.
Bonnie R. Braddock, MPH, CGC
Bonnie Braddock is a senior certified genetic counselor with Medical Genetics at Upstate University Hospital. She received her Master's of Public Health degree in Genetic Counseling in 1984 from UCLA and received certification in genetic counseling by the American Board of Medical Genetics in 1987.
Before joining the genetics staff at Upstate in 1997, Ms. Braddock held genetic counseling positions in Los Angeles and in Massachusetts. She is a charter member of the National Board of Genetic Counseling and is an active member of the National Society of Genetic Counselors. Ms. Braddock offers genetic counseling for adult onset and pediatric conditions. She specializes in cancer genetic counseling which she provides within Medical Genetics and at the Upstate Regional Oncology Center.
Ryan T. Miller, MS, CGC
Ryan Miller is a certified genetic counselor with Medical Genetics at Upstate University Hospital. He received his undergraduate degree from Cornell University and his Master's of Genetic Counseling from Mount Sinai School of Medicine in 2007. He received certification from the American Board of Genetic Counselors in 2009.
Ryan sees pediatric and adult patients for genetic evaluations. He is the genetic counselor for the Inherited Metabolic Diseases Specialty Center, the Cystic Fibrosis Program, and the CNY Cleft and Craniofacial Center at Upstate. He also sees patients who have a family history of a genetic disorder, including Huntington disease. Ryan travels with Dr. Lebel to the outreach clinics in Binghamton and Watertown.