The MD/PhD Program at SUNY Upstate Medical University has approximately 26 students who are in various stages of their training. You can learn about these individual students and their research interest by selecting the link to current students on this page.
Our students receive individual attention from the director of the MD/PhD Program and other faculty members. SUNY Upstate works diligently to be sure each student receives assistance whether it be academic advising, help with scheduling, selecting a laboratory, or figuring out finances. Visiting applicants cited the friendliness of students and staff as one of our most appealing features.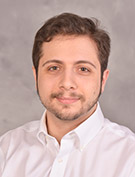 Sam LaMagna
PhD (3rd year)
lamagnas@upstate.edu
Department: Neuroscience/Ophthalmology
Advisor: Eduardo Solessio, PhD
Research Interests
I am interested in studying the neural basis of behavior and perception. To this end I joined the Solessio lab in the summer of 2019. As a student in Dr. Solessio's lab I use a combination of genetic manipulation, operant conditioning, and signal detection theory to parse out the contributions of retinal neural pathways to our visual perception.