The MD/PhD Program at SUNY Upstate Medical University has approximately 26 students who are in various stages of their training. You can learn about these individual students and their research interest by selecting the link to current students on this page.
Our students receive individual attention from the co-directors of the MD/PhD Program and other faculty members. SUNY Upstate works diligently to be sure each student receives assistance whether it be academic advising, help with scheduling, selecting a laboratory, or figuring out finances. Visiting applicants cited the friendliness of students and staff as one of our most appealing features.
PhD Students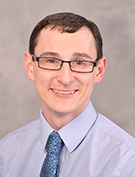 Research Interests
Kyle Alpha I had my first experience with basic science research during my sophomore year of college and was immediately fascinated by the idea of teasing out the molecular and cellular mechanisms that underlie diseases. However, I soon realized that I also needed something else. As much as I loved the lab, I also felt a strong pull to build relationships with patients. An MD/PhD seemed to be the best way for me to pursue a truly fulfilling vocation where I could do biomedical research without losing sight of the importance and relevance of that research to individuals.

I had a great interview experience at Upstate. It seemed to have something special; everyone I interacted with was incredibly warm and welcoming. The faculty I spoke with all seemed vvery passionate about their research and several had work that coincided with my interests. As a bonus, I love the weather in CNY (really!).

I'm very interested in breast and pancreatic cancer. On the cellular level, I'm interested in investigating changes in cell migration and invasiveness. During my undergraduate career, I investigated how epigenetics affected these characteristics, but I've recently become interested in the cytoskeleton and cell adhesions.

Extracurricular Hobbies: Music (I love playing piano and guitar in my free time), running, camping, reading. I'm also passionate about my faith and spend time working with a youth group at a church nearby.

Love about Syracuse: The weather - I love having four seasons! The summer is beautiful but winter can also be a lot of fun. The variety of volunteer opportunities throughout the local community are also fantastic!