The MD/PhD Program at SUNY Upstate Medical University has approximately 26 students who are in various stages of their training. You can learn about these individual students and their research interest by selecting the link to current students on this page.
Our students receive individual attention from the director of the MD/PhD Program and other faculty members. SUNY Upstate works diligently to be sure each student receives assistance whether it be academic advising, help with scheduling, selecting a laboratory, or figuring out finances. Visiting applicants cited the friendliness of students and staff as one of our most appealing features.
PhD Students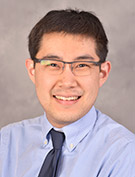 Sungsu Lee
MSIV
leesu@upstate.edu
Department: Neuroscience/Ophthalmology
Advisor: Peter D. Calvert, PhD
Research Interests
I started the MD/PhD program at SUNY Upstate in 2013, after graduating from Cornell University with a BA in physics. I was always technically oriented, having drawers full of broken electronics that I took apart. I even remember having modified my Gameboy so that it would be solar-powered. Although physics may be an unusual major to find at a medical school, I have found that there is much physics to be studied in biological systems.

I'm working with Dr. Calvert in Ophthalmology, specifically studying the transport of various GPCRs in primary cilia. I'm specifically interested in incorporating a wide variety of biophysical techniques, such as single particle tracking with quantum-dots, Förster resonance energy transfer (FRET), and stimulated emission depletion (STED) microscopy. In other words, I go to lab to play (do research?) with expensive toys (research equipment).

Outside of lab, my interests include hiking the many trails near Syracuse, skiing in the winter, and traveling during the summer weekends (One time, I flew to Los Angeles just to have an In-N-Out Burger). I go to weekly trivia nights, game nights, and the various events hosted by Upstate. I am also the treasurer in Upstate Student Government, overseeing the funding of the student clubs.