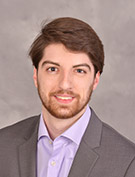 Research Interests
I pursued an MD/PhD because I wanted to be able to contribute knowledge to
the field of medicine in addition to practicing it. The best medicine, whether preventative or therapeutic, comes from the application of good science. As a physician-scientist, I'll get to put my curiosity and constant questioning to good use.

For now, both my medical and research interests are in immunology/infectious disease. Some of my undergraduate research was in the lab of an ID physician-scientist, and my current summer rotation is with Dr. Helene Bernstein in Microbiology/Immunology. Long-term, I would like to both see patients and contribute to research projects designed to develop new treatments.

When not in the lab or in class, I like to read and write. Occasionally, some of my persistent and well-meaning friends convince me to join them to have exertion fun (hiking or swimming), or non-exertion fun (festivals, movies, anything involving wine).