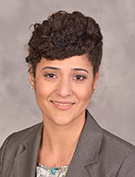 Research Interests
I obtained my B.S. in Biochemistry at SUNY New Paltz in 2015. As an undergraduate, I did research in a variety of fields including Molecular Biology, Microbiology/Immunology and Biochemistry. However, my research interest is mainly in Virology. A few months after I graduated, I started working as the Instructional Support Technician for the Chemistry Department at SUNY New Paltz, a position I held until a few weeks before moving to Syracuse to becoming a member of the MD/PhD program at SUNY Upstate.

I decided to come to SUNY Upstate because they made it easy for me to decide. Aside from having outstanding research, faculty and facilities- from the very beginning the MD/PhD program at Upstate made it clear that they wanted me to be here as much as I wanted to be here. The welcoming environment generated by current students, faculty members, program directors and coordinator made it clear that coming to Upstate was the right decision for me. Furthermore, the program is highly organized and designed to assure the success of its students. This summer I am doing my first lab rotation in Dr. Jennifer Moffat's lab from the Microbiology/Immunology department.

Some of my hobbies include dancing, cooking/trying different cuisines, yoga, playing Mario Kart, hiking and traveling.