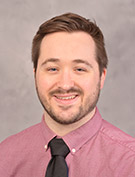 Research Interests
Year that you matriculated: 2014

Why MD/PhD?: Because I enjoy the thrill of discovery in the human body.

Why Upstate? The faculty are wonderful. We have great advisors. A friendly atmosphere.

Research Interests: Uncovering the thought processes of the human brain.

If PhD and beyond, Research Project

Extracurricular hobbies: Soccer, Biking, hobby electronics.

What you love about Syracuse? Great college basketball town. Not far from nature reserves and a wooded area.