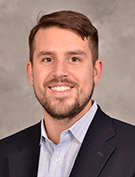 Research Interests
I matriculated as an MD/PhD candidate at SUNY Upstate Medical University in 2014. My decision to pursue a dual MD/PhD degree was based on two things: my passion for basic research and my drive to help those in need. I believe becoming a physician scientist will both equip me to become an effective investigator of the mechanisms of human disease and allow me to have a direct impact on patients' lives. I found SUNY Upstate's MD/PhD program particularly attractive because of the thriving research community in the College of Graduate Studies and the extremely helpful and welcoming community within the MD/PhD Program and the College of Medicine.

My research focuses on mitochondrial biology and how mitochondria-induced cell stress contributes to human neuromuscular diseases. By studying the mechanism of mitochondria-induced cell stress at the molecular level, I hope to uncover evolutionarily conserved pathways that can potentially alleviate this stress. Ultimately my goal is to target potential stress response pathways for drug development. In the Chen lab we use yeast, tissue culture, and the mouse as model organisms to investigate these topics.

Outside of the lab I like to stay active by playing ice hockey and softball. Syracuse is a great place to stay involved in recreational sports, with numerous leagues in and around the city. In fact, we have an Upstate hockey team that plays throughout the year.