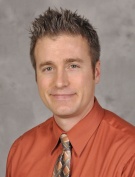 Kristopher Paolino, MD,
Assistant Professor
Fellowship Program Director
Message from the Program Director
Our program provides a comprehensive experience in an academically oriented setting. Such training enables our graduates to pursue careers in academic or clinical Infectious Disease.. The specific goals of the training program include:
To develop the intellectual and personal attributes necessary to promote professional growth and lifelong learning.
To provide outstanding education in the diagnosis and management of infectious diseases spanning the spectrum of general internal medicine in the framework of humanism, professionalism, and the cost-effective practice of medicine.
To cultivate personal development of each Infectious Disease Fellow participating in the training program.
The faculty at Upstate Medical University are uniquely suited to achieve these goals. They are full-time clinicians who are deeply committed to teaching. The academic environment formed by the interaction of Fellows with faculty, residents and medical students enhances patient care and fosters a vigorous learning environment. Many of the medicine faculty are nationally and internationally known for their research activities and continue this commitment by mentoring the Fellows research projects.
We look forward to you exploring our website and viewing the unique opportunities that we can offer to you.
Sincerely,

Kristopher Paolino, MD, Assistant Professor
Infectious Disease Fellowship Training Program Director
Email: paolinok@upstate.edu 
Title of Program
Infectious Disease Training Program
Sponsor
State University of New York-Upstate Medical University
Participating Institutions
Fellowship training in Infectious Disease is a two-year program, and successful completion of this training will allow candidates to be eligible for certification examination in subspecialty of Infectious Disease by the American Board of Internal Medicine.
Individuals interested in applying to our fellowship program should apply through ERAS.