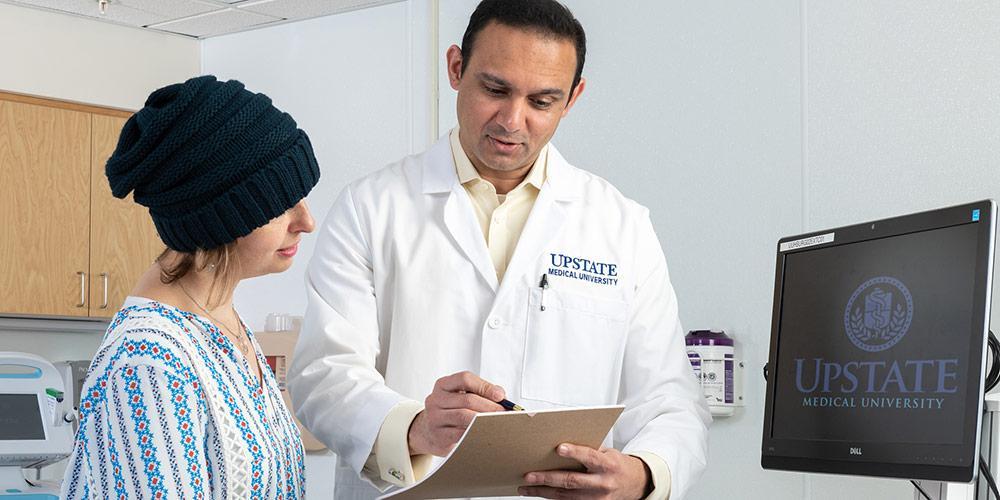 We offer individualized treatment of different types of hernias based on each patients' specific needs and circumstances.
Like many services at Upstate, care to hernia patients is multidisciplinary.  This means that patients are likely to see not only their surgeon, but also a physical therapist, an occupational therapist, a nutritionist, and a patient coordinator.
The ultimate repair of the hernia is to be able to bring the patient's muscles back together again, to give the patient the ability to function normally and restore their self-confidence and physical comfort.
Mesh
Your repair may require mesh implantation.  If that is the case, our team will carefully select the appropriate mesh, aiming to improve the durability and quality of your life.
Surgery may be done in one of two ways:

Open Repair
Minimally Invasive Robotic Repair
Preparing for your Surgery
Prehabilitation
After undergoing abdominal wall reconstruction, or hernia repair, your body has a new ability to stabilize its core.  Rehabilitation of your core, after these operations, is important to maintain function and flexibility and can help reduce pain.
Our team has developed a successful Prehabilitation and Postoperative rehabilitation program.
Our Prehabilitation program is designed to optimize physical and lifestyle preparation to improve function and health before repair.
We provide access to a free mobile app and website which breaks down our program into three categories:
1- Before Surgery, 2- Surgery, 3- After Surgery
Familiarizing yourself with tips that will help develop good habits that can promote healing, improve flexibility, and teach proper breathing techniques and safe ways to bend and lift are among a few of the benefits.
Our program includes:
Self-care for healing and recovery
Stretching
Activities of daily living
Exercises to enhance your repair and impact your recovery
We also focus on weight loss, smoking cessation, and blood sugar control.
Postoperative Rehabilitation
Our postoperative rehabilitation program is directed to maximize a complete recover and healing process so you have the ability to regain your independence and insure durability of your repair.
These two programs will help you restore abdominal core health.