University Cardiovascular Group of Syracuse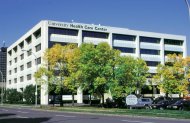 Upstate Medical University faculty and staff are dedicated to providing our patients with innovative care, exceptional outcomes, and excellent service in a safe and pleasant environment. Upstate Medical University is the only academic medical center in the area and is an incomparable resource for families in Central New York and beyond.
When you're a patient here, you'll be treated like one of the family. From making sure you find your way to your next appointment, to educating you about heart disease, to assessing your family's risk for heart disease, we do our best to make your experience as our patient as easy and comfortable as possible. Here at Upstate University Hospital, we treat the whole patient—not just the disease. We want you to be active in your care and to speak up whenever you have a question or concern.
We welcome you to Upstate University Hospital Division of Cardiology, and look forward to bringing you a brighter future.
Our Providers