University Cardiovascular Group of Liverpool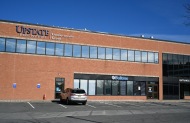 Comprehensive cardiac care at Upstate can help you enjoy a full life.
Our team of board-certified physicians and other providers will diagnose, treat and educate you about your heart and any condition you may have. We work collaboratively with you, your family and your primary care physician to ensure prevention and early detection of any future heart issues. Most services are available within the convenience of our comfortable offices, but know that any testing or treatment you may need is available via the network of services in the Upstate Heart Institute.
We treat you, the whole patient—not just your heart disease.
Appointments
Please call our office at 315-701-2170 to schedule all of your appointments. We will do our best to schedule your follow up appointments and any requested testing at the time of your visit. We will call to confirm 24 hours before your appointment. Please give us 24 hours notice if you need to cancel your appointment.
After office hours, our phones are answered by our answering service.  A physician is on call after 5 p.m. and on weekends for telephone response to urgent matters.  If your call is not urgent, please call during regular office hours.
In-Office Diagnostics
For your convenience, we offer a variety of cardiology tests in-office including:
Exercise Treadmill Stress Test
Nuclear Treadmill Stress Test
Nuclear Pharmacologic Stress Test (non-walking)
Echocardiogram, including Transthoracic Echocardiography and Stress Echocardiography
Holter Monitor (24-hour or 48-hour)
Event Monitor
Vascular tests in-office including:
Carotid and Aortic Ultrasound
Pulse Volume Recording (PVR)
Ankle Brachial Index (ABI)
Venous Doppler
Renal Artery Scan
Medications
Please bring all of your medications in their original bottles each time you visit our office. This will help us take better care of you.
Patient Responsibilities
The following responsibilities will insure a professional partnership between our patients, physicians and staff:
New patients will be asked to fill out a patient information sheet.
Please bring your insurance cards with you at every visit.
Please inform us of any name, address, telephone, or insurance changes as soon as possible.
If your insurance company requires you to make a co-payment, please be prepared to make that payment at check-in.
If your insurance company requires you to obtain a referral to us from your primary care physician, please confirm that this referral has been sent prior to your appointment.
Our Team