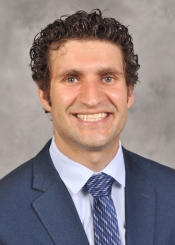 315 464-4243
Awss Zidan, MD
CURRENT APPOINTMENTS
SPECIALTIES
LANGUAGES
PATIENT TYPE
PATIENT RATING
CLINICAL LOCATIONS
Upstate Health Care Center
90 Presidential Plaza
Syracuse, NY 13202
315 464-4243
Upstate Bone and Joint Center
6620 Fly Road
East Syracuse, NY 13057
315 464-3938
Upstate Health Care Center
90 Presidential Plaza
Syracuse, NY 13202
315 464-4243
CLINICAL SECTION AFFILIATIONS
CURRENT HOSPITAL PRIVILEGES
Upstate University Hospital
CAMPUSES
PATIENT COMMENTS
June 28, 2022
Dr. Zidan is a great doctor. I feel so fortunate to be one of his patients. He is obviously very smart, skilled and knowledgeable, but he is also extremely kind and compassionate. He listens to my many questions and concerns, and always answers clearly and honestly. I have made such great progress with Dr. Zidan that I only need to see him once a year now, but I enjoy my visits with him so much that I wish I could see him more frequently. He's absolutely the best!
June 12, 2022
I work in a physician office that often referrs to neurology. This is a physician I have highly recommended and have starting sending referrals too
May 30, 2022
Nice person, but I am not convinced he really cared about my case.
May 30, 2022
Dr. Zidan is warm, professional, curious, and a good listener. I left feeling encouraged about next steps. I also appreciate being part of a teaching hospital. Dr. Zidan worked very well with his resident, brainstorming about accessing medical records and sharing insight on best practices. Nice to witness.
May 25, 2022
Dr zidan is wonderful