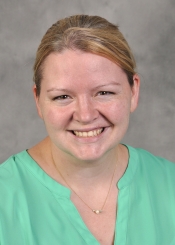 Accepting New Patients
315 464-4243
Sandra Gibson, PA, MSCS
CURRENT APPOINTMENTS
SPECIALTIES
Advanced Cardiac Life Support (ACLS) Provider
Neuroimmunology, Neurogenetics
Neurology
LANGUAGES
PATIENT TYPE
PATIENT RATING
CLINICAL BACKGROUND AND MY APPROACH TO CARE
Multiple Sclerosis
Neuroimmunological diseases
DISEASES & CONDITIONS TREATED
TREATMENTS / SERVICES
Botox Injections for Migraine
Infusional Therapies
Sphenopalatine Ganglion Block (SPG) for Migraines
CLINICAL LOCATIONS
Upstate Bone and Joint Center
6620 Fly Road
East Syracuse, NY 13057
315 464-5345
Upstate Health Care Center
90 Presidential Plaza
Syracuse, NY 13202
315 464-4243
Upstate Health Care Center
90 Presidential Plaza
Syracuse, NY 13202
315 464-4243
CURRENT HOSPITAL PRIVILEGES
Upstate University Hospital
PATIENT COMMENTS
December 21, 2022
Excellent
December 13, 2022
Sandy Gibson is very thorough and gives real thought to my concerns and opinions about my care. As a health care professional myself, it is important to me that I am treated as such. Sandy does a great job.
November 16, 2022
Veery fortanate that I have Sandy as my medical provider
November 16, 2022
She is amazing. She even drew a picture to connect how the body is supposed to function and what's going wrong with my body because I couldn't understand. I'm a visual learner.
October 17, 2022
Sandy Gibson is terrific. A good listener and she did not rush through my exam.