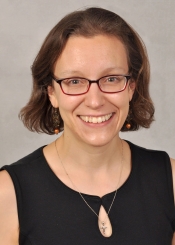 315 464-4243
Jenny Meyer, MD
CURRENT APPOINTMENTS
SPECIALTIES
Neurology
Neuromuscular Medicine
LANGUAGES
PATIENT TYPE
PATIENT RATING
CLINICAL TRIALS
A PHASE 2B/3, MULTI-CENTER, RANDOMIZED, DOUBLE-BLIND, PLACEBO-CONTROLLED, 12 MONTH CLINICAL TRIAL TO EVALUATE THE EFFICACY AND SAFETY OF MN-166 (IBUDILAST) FOLLOWED BY AN OPEN-LABEL EXTENSION IN SUBJECTS WITH AMYOTROPHIC LATERAL SCLEROSIS
Read more
DISEASES & CONDITIONS TREATED
Chronic Inflammatory Demyelinating Polyneuropathy (CIDP)
Demyelinating Neuropathies
Epilepsy
Lou Gehrig's Disease
Migraine Headache
Myasthenia Gravis
Myelopathy
Neuropathy
Parkinson's Disease
TREATMENTS / SERVICES
Botulinum Toxin Injections
Infusional Therapies
CLINICAL LOCATIONS
Upstate University Hospital
750 East Adams Street
Syracuse, NY 13210
315 464-5764
Upstate Bone and Joint Center
6620 Fly Road
East Syracuse, NY 13057
315 464-3938
Upstate Health Care Center
90 Presidential Plaza
Syracuse, NY 13202
315 464-4243
Upstate Health Care Center
90 Presidential Plaza
Syracuse, NY 13202
315 464-4243
Township 5 Camillus
208 Township Blvd
Camillus, NY 13031
315 464-8600
CLINICAL SECTION AFFILIATIONS
CURRENT HOSPITAL PRIVILEGES
Upstate University Hospital
PATIENT COMMENTS
May 4, 2022
Very thankful for Dr Meyer knowledge and understanding of my health concerns.
April 27, 2022
Could not be happier with my experience, would not change a thing.
April 22, 2022
Dr. Meyer always explains everything to me and asks for my input and we make all decisions together.
February 15, 2022
Dr. Meyer is an awesome ophthalmologist. Very caring, respectful individual.
December 12, 2021
Dr Meyer Is very easy to talk to , helpful and beyond kind. She always responds if you email . She answers all your questions and concerns !