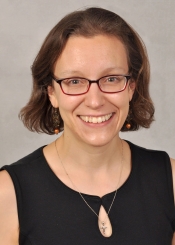 315 464-4243
Jenny Meyer, MD
CURRENT APPOINTMENTS
SPECIALTIES
Neurology
Neuromuscular Medicine
LANGUAGES
PATIENT TYPE
PATIENT RATING
CLINICAL TRIALS
A PHASE 2B/3, MULTI-CENTER, RANDOMIZED, DOUBLE-BLIND, PLACEBO-CONTROLLED, 12 MONTH CLINICAL TRIAL TO EVALUATE THE EFFICACY AND SAFETY OF MN-166 (IBUDILAST) FOLLOWED BY AN OPEN-LABEL EXTENSION IN SUBJECTS WITH AMYOTROPHIC LATERAL SCLEROSIS
Read more
DISEASES & CONDITIONS TREATED
Chronic Inflammatory Demyelinating Polyneuropathy (CIDP)
Demyelinating Neuropathies
Epilepsy
Lou Gehrig's Disease
Migraine Headache
Myasthenia Gravis
Myelopathy
Neuropathy
Parkinson's Disease
TREATMENTS / SERVICES
Botulinum Toxin Injections
Infusional Therapies
CLINICAL LOCATIONS
Upstate University Hospital
750 East Adams Street
Syracuse, NY 13210
315 464-5764
Upstate Bone and Joint Center
6620 Fly Road
East Syracuse, NY 13057
315 464-5345
Upstate Health Care Center
90 Presidential Plaza
Syracuse, NY 13202
315 464-4243
Upstate Health Care Center
90 Presidential Plaza
Syracuse, NY 13202
315 464-4243
Township 5 Camillus
208 Township Blvd
Camillus, NY 13031
315 551-6000
Township 5 Camillus
208 Township Blvd
Camillus, NY 13031
315 551-6000
CLINICAL SECTION AFFILIATIONS
CURRENT HOSPITAL PRIVILEGES
Upstate University Hospital
PATIENT COMMENTS
January 31, 2023
Dr. Meyer has a very good way of giving the patient excellent descriptions of the treatment required and answering all questions I might have In very understandable terms. Always leave feeling that I understand the treatment plan and that I have received very good medical care.
January 15, 2023
Dr. Meyer listened to my questions and concerns and took the time needed to answer each issue thoroughly
January 2, 2023
Jennny Meyer is terrific
November 23, 2022
DESPITE EXCESSIVELY LONG WAIT, VISIT WITH DR. MEYER EXCELLENT.
November 16, 2022
The doctor was very good at explaining my problem, discussed with me all options of treatment and answered my questions clearly in language I could understand.