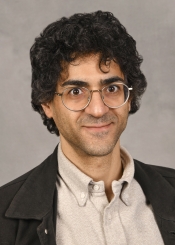 315 464-4243
Hesham Masoud, MD
CURRENT APPOINTMENTS
SPECIALTIES
Neurology
Vascular Neurology
Endovascular Surgical Neuroradiology
LANGUAGES
PATIENT TYPE
PATIENT RATING
CLINICAL BACKGROUND AND MY APPROACH TO CARE
Acute stroke intervention, Carotid stenosis, Intracranial atherosclerotic disease, Brain aneurysms and AVMs, Dural AV fistulas, Endovascular management of refractory nose bleeds, Embolization of head and neck tumors, Stroke evaluation and management, Balloon-test occlusion, Vasospasm treatment, Vertebroplasty and Kyphoplasty, WADA testing.
DISEASES & CONDITIONS TREATED
Brain Aneurysm
Carotid Artery Aneurysm
Carotid Artery Disease
Nervous System Vascular Lesions
Nosebleed or Epistaxis
Stroke
TREATMENTS / SERVICES
Carotid Angiography and Stenting
Carotid Artery Aneurysm Surgery
Cerebral Angiography
Stroke Care
Surgical Treatment of Stroke or Brain Ischemia
Tissue Plasminogen Activator Treatment (TPA )
Wada Test
CLINICAL LOCATIONS
Upstate Health Care Center
90 Presidential Plaza
Syracuse, NY 13202
315 464-4243
CLINICAL SECTION AFFILIATIONS
Neurology
Cerebrovascular/Critical Care
Neurosurgery
Neuroendovascular
Upstate Comprehensive Stroke Center
Neuro-interventional/Radiology
Neurology-Stroke Service
CURRENT HOSPITAL PRIVILEGES
Upstate University Hospital
CAMPUSES
PATIENT COMMENTS
April 26, 2021
I felt completely comfortable with the Dr. I understood him clearly.
February 9, 2021
Provider wanted to cancel appt. 2.5 hours before scheduled time. I had already taken the day off work. Didn't seem to have full grasp of medical history or case - this was my first visit with provider after waiting months to be seen. He agreed I needed labs drawn but remained in my chart for an hour past the end of the appt. So labels couldn't be printed in the lab - I had to wait. Overall he demonstrated a lack of understanding of the patient experience.
October 22, 2020
Dr. Masoud is excellent.
September 28, 2020
The time with Dr. Masoud was a bit limited, but we didn't have to wait long to see him either. Need a better way to get feedback after the appointment.
May 10, 2020
Very thorough and patient