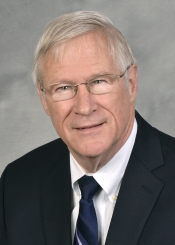 315 464-4243
Burk Jubelt, MD
CURRENT APPOINTMENTS
Professor of Neuroscience Graduate Program
SPECIALTIES
LANGUAGES
PATIENT TYPE
PATIENT RATING
CLINICAL BACKGROUND AND MY APPROACH TO CARE
Immune Response to CNS virus infections; Growth Factors for Post-Polio Syndrome; Immune-mediated diseases; Treatment of Multiple Sclerosis
DISEASES & CONDITIONS TREATED
Multiple Sclerosis (MS)
Post Polio Syndrome
CLINICAL LOCATIONS
Upstate Health Care Center
90 Presidential Plaza
Syracuse, NY 13202
315 464-4243
CURRENT HOSPITAL PRIVILEGES
Upstate University Hospital
Crouse Hospital
VA Medical Center
CAMPUSES
PREVIOUS APPOINTMENTS
Northwestern University Medical School, 1979-1989
PATIENT COMMENTS
July 9, 2018
I have been a patient of dr jubelt for over 10 years and have no complaints.
June 22, 2018
*Dr. Jubelt is the best. Not only is he a bright doctor he is also compassionate and treats people with respect.
December 11, 2017
I have no pain issues this visit. Dr Jubelt is the best as a provider and as a person. I am very fortunate he is my Neurologist.
December 5, 2017
Great doctor. I would totally recommend Dr. Jubelt. Great bedside manner.