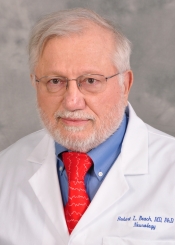 315 464-4243
Robert Beach, MD, PhD
CURRENT APPOINTMENTS
SPECIALTIES
Neurology
Clinical Neurophysiology
Epileptology/EEG (Clinical Neurophysiology)
Epileptology
LANGUAGES
PATIENT TYPE
PATIENT RATING
CLINICAL BACKGROUND AND MY APPROACH TO CARE
I direct our Comprehensive Epilepsy Program, the epilepsy clinics, and the EEG and EMU Labs. My clinical interests include epilepsy, epilepsy surgery, seizures, antiepileptic therapies (medical, surgical and experimental) and differential diagnosis of spells.
CLINICAL TRIALS
A RANDOMIZED, DOUBLE-BLIND, PLACEBO-CONTROLLED,PARALLEL GROUP, MULTICENTER TRIAL OF CVL-865 AS ADJUNCTIVE THERAPY IN ADULTS WITH DRUG-RESISTANT FOCAL ONSET SEIZURES
Read more
A First-in-human (FIH) Study of Inhibitory Interneurons (NRTX-1001) in Drug-Resistant Unilateral Mesial Temporal Lobe Epilepsy (MTLE)
Read more
DISEASES & CONDITIONS TREATED
Epilepsy
Epilepsy, Severe
Seizures
TREATMENTS / SERVICES
Clinical Trials
Comprehensive Epilepsy Program
Electroencephalogram (EEG)
Evoked Potentials
Long Term Epilepsy Monitoring
Seizure Focus Investigation
Wada Test
CLINICAL LOCATIONS
Upstate University Hospital
750 East Adams Street
Syracuse, NY 13210
315 464-5363
Upstate Health Care Center
90 Presidential Plaza
Syracuse, NY 13202
315 464-4243
Upstate Community Hospital
4900 Broad Road
Syracuse, NY 13215
315 464-9906
Upstate Health Care Center
90 Presidential Plaza
Syracuse, NY 13202
315 464-4243
CLINICAL SECTION AFFILIATIONS
CURRENT HOSPITAL PRIVILEGES
Upstate University Hospital
VA Medical Center
CAMPUSES
PREVIOUS APPOINTMENTS
University of North Carolina School of Medicine, 1992-1999
UCLA Medical Center, 1987-1992
University of Kansas, 1981-1985
University of California at Irvine, 1977-1980
PATIENT COMMENTS
September 6, 2022
I have always recommended Dr. Beach to others who have seizures. Those who are online & in this area.
August 2, 2022
Love Dr. Beach. He is the very best!
May 8, 2022
Dr Beach is absolutely amazing, he really care about his patient, I'm very happy to meet this Dr.
January 6, 2022
Everybody in this office with I was in contact is amazing. I always have a nice experience, also I want to recognize the receptionist, she always is very attentive.