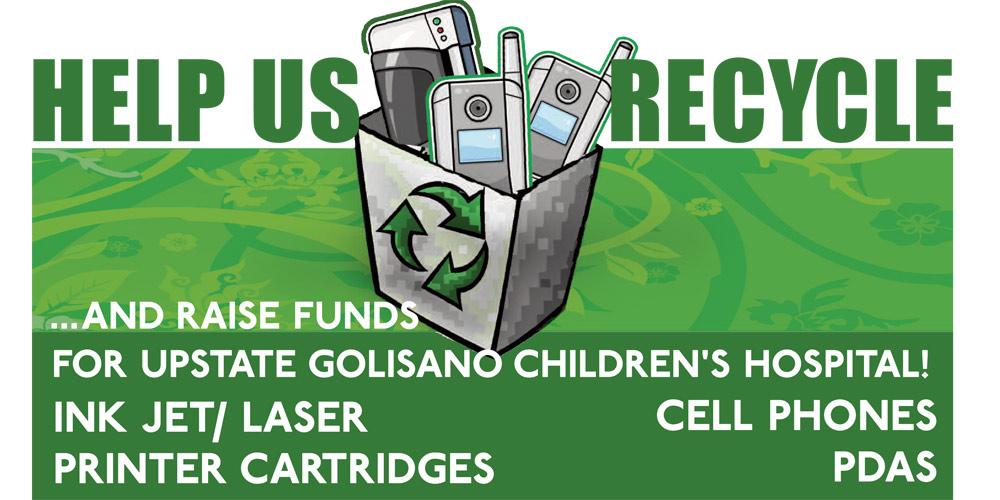 Recycle for Upstate Golisano Children's Hospital
Download our Help Us Recycle poster
What's one old ink jet cartridge worth?
By itself, not much. But when it's added to hundreds and then thousands of other recycled printer cartridges, cell phones, Blackberries and PDAs, it turns into dollars for Upstate Golisano Children's Hospital.
Beginning in August 2008, the Upstate Foundation joined with Wal-Mart, Upstate's Mail & Receiving Services and Environmental Health & Safety on this recycling program conducted through interoffice mail.
The proceeds benefit Upstate Golisano Children's Hospital. It's easy to take part, and your effort not only helps the hospital but the environment as well.
Wal-Mart/Sam's Club is an Upstate Foundation/Children's Miracle Network partner. Through this and other programs, the companies contributed more than $300,000 to Upstate Golisano Children's Hospital in 2008.
Here's how you can do your part, but please note that batteries are not part of this program.
Large Printer Cartridges
Remove cartridge from printer
Place cartridge in box
Do not put the UPS label on the box
No powdered filter cartridges allowed
Only 2 large cartridges can be picked up per day
Place in interoffice mail and address to RECYCLE
Small Laserjet and Inkjet Cartridges
Remove cartridge
Place tape over metallic end of cartridge
Place in interoffice mail envelope and
Address to INKJET
Cellular phones, PDAs, Blackberries
Remove personal information from memory
Place phone in plastic bag with charger if possible
Seal plastic bag
Place in interoffice mail envelope and address to CELL PHONE
For large quantities, standard batteries (AAAs, AAs, Cs, Ds, 9Vs, etc.) or any other assistance, please contact Environmental Health and Safety at 4-5782 or Mary Rochette at 4-7853.
It's easy to be Green, and you'll help Upstate Golisano Children's Hospital at the same time.