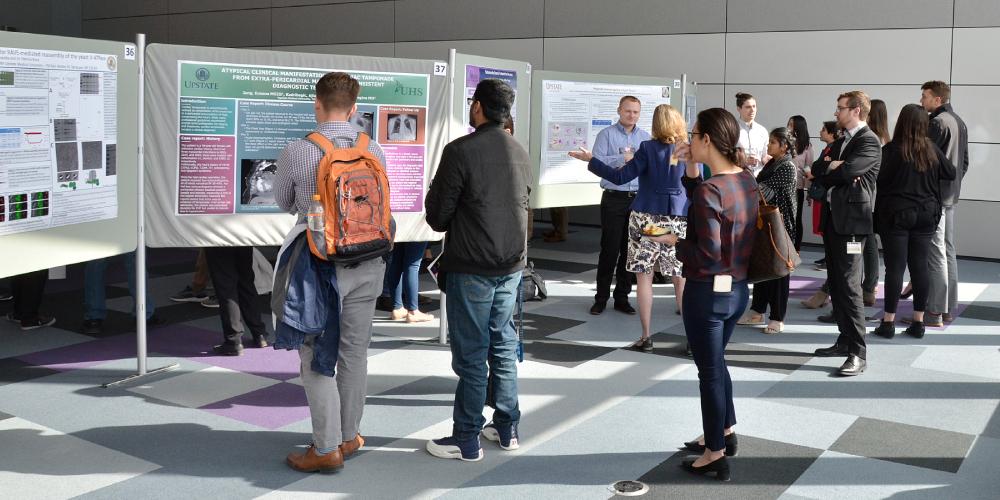 Charles R. Ross Memorial Student Research Day
March 29, 2023
The Charles Ross Memorial Student Research Day was held on March 29, 2023 from 1- 6 p.m.
Student Research Day is an event to spotlight our student researchers in the College of Graduate Studies, College of Medicine, College of Health Professions and College of Nursing. This half-day long event includes oral presentations, a keynote address and concludes with a poster session.
This year we had over 130+ poster presenters and great presentations. You can see photos here from this years program. 
Schedule of Events
Student Research Day will begin with the presentations in Weiskotten 9295 Auditorium.
1:00 p.m.  Welcome and Opening Remarks
Mantosh Dewan, MD, President, SUNY Upstate Medical University 
Mark Schmitt, PhD, Dean, College of Graduate Studies 
1:10 p.m.   Aya Kobeissi: "Neural mechanisms of lost disinhibition and compassion in a mouse model of behavioral variant frontotemporal dementia" 
1:30 p.m. Christopher Trevisani:  "KLRG1 Cell Depletion As A Novel Therapeutic Strategy In Patients With Mature T-cell And NK-cell Neoplasms" 
1:50 p.m. Yetunde Kayode: "Hypoxic Adaptation Induces a Glycolytic Dependence of HIV-1 Latency Reversal" 
2:10 p.m Rachel Aber:  "Increased Risk for ADHD and Comorbid Mental Health Outcomes in Children and Adolescents with COVID-19"  
2:30 p.m.  Arnav Rana:  "Cardiac Functional Changes Associated with Bioenergetic Independent Stress Signaling" 
2:50 p.m.  Break 
3:00 p.m.  "Building a research career in rare disease." Presented by keynote speaker: Samuel Mackenzie '15, MD/PhD:  Assistant Professor of Child Neurology, Neuromuscular Disease, and Neuroscience at University of Rochester Medical Center           
4 - 5:30 p.m. Poster presentations will take place in NAB 4414 BC
Submission Deadlines
Oral Presentation Abstract Submission Deadline:
Wednesday, February 01, 2023 by 4 p.m.
Poster Presentation Abstract Submission Deadline:
Wednesday, March 01, 2023 by 4 p.m.
Free Poster Print Deadline:
March 13, 2023 by 5:00 p.m.
Submission & Abstract Guidelines
Please review the Abstract Guidelines enclosed here before submission.
Free Poster Information
Please read the attached directions, logos and checklist necessary in order to request a FREE poster. You will receive an email from me with the necessary logos. If you need help with your poster design, you must following the deadline and directions provided in the checklist. Poster Suggestion
More Information
Find additional event details here.
Please contact Shaunna Arnold in the College of Graduate Studies at (315) 464-4547 or arnoldsh@upstate.edu if you have any questions.
Please feel free to scroll through all the photos from this years program.