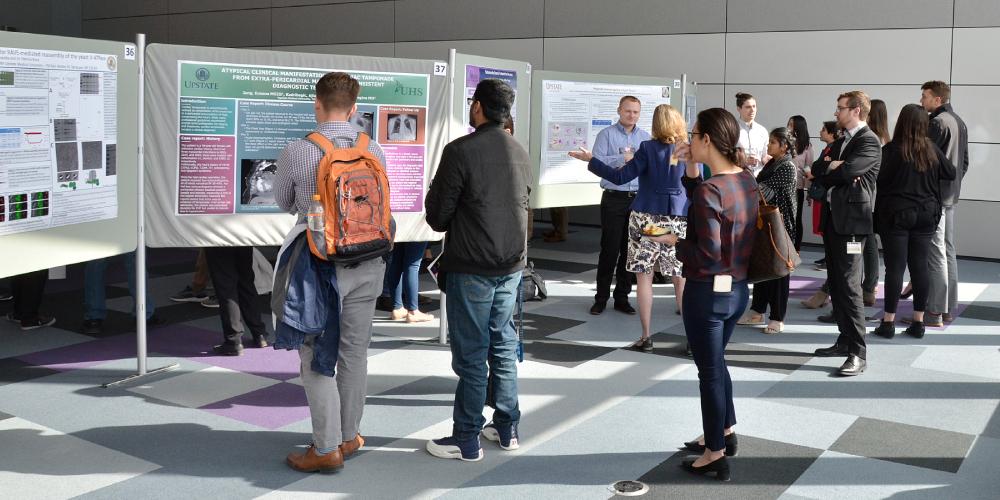 Charles R. Ross Memorial Student Research Day
March 19, 2024
The Charles Ross Memorial Student Research Day will be held on March 19, 2024 from 1- 6 p.m.
Student Research Day is an event to spotlight our student researchers in the College of Graduate Studies, College of Medicine, College of Health Professions and College of Nursing. This half-day long event includes oral presentations, a keynote address and concludes with a poster session.
This year we had over 130+ poster presenters and great presentations. You can see photos here from this years program. 
Schedule of Events- Updated schedule coming soon
Student Research Day will begin with the presentations

1:00 - 3:00 p.m.  Welcome, Opening Remarks and Student Presentations
3:00 - 4:00 p.m.  Keynote Speaker: Elizabeth Repasky, PhD, Professor, Vice-Chair of Immunology and Program Leader for the Cancer Stress Biology Program at the Roswell Park Comprehensive Cancer Center.

4 - 5:30 p.m. Poster presentations will take place in NAB 4414 ABC
Submission Deadlines
Oral Presentation Abstract Submission Deadline:
Wednesday, January 31, 2024 by 4 p.m.
Oral presenters chosen to present at Student Research Day are automatically considered elible for the President's award and case prize of $250. The winner of the award will be selected base on the best oral presentation.
Poster Presentation Abstract Submission Deadline:
Sunday, February 25, 2024 by 4 p.m.
Free Poster Print Deadline:
Tuesday, March 5, 2024 by 5 p.m. (No Exceptions)

Submission & Abstract Guidelines
Please review the Abstract Guidelines enclosed here before submission. *Please note if the abstract guidelines are not followed your abstract will be sent back and must be submitted in time for the deadline.
Free Poster Information - From the Department of Medical Photography (PLEASE READ)
FREE POSTER LETTER: Students participating in the Student Research Celebration/Student Research Day are offered one
3' x 5' print at no cost provided it follows the *requirements below.

Students that are unsure how to format their posters can arrange one-on-one sessions with Sabra
Snyder on creating research posters with Powerpoint. A pdf with the basic layout and suggestions is attached with an example of a research poster on it if you're not sure where to start.

* Free Poster Requirements: Your Powerpoint file must be:
• Set up at 18"h x 30"w
• Named as your *last name*, preferably eight characters or less. (ie: jefferso.pptx)
• Contain the SUNY Upstate round seal or rectangular Upstate logo
The Upstate seal is attached and is only for educational/research purposes only.
• Proofed (you will not get a 2nd chance on a free print)
• Include "Student Research Celebration" as the Subject of the email in order to receive a reply
that your poster was received
• Emailed from your Upstate Outlook account to avoid our spam filters

Posters will be rejected if ALL requirements are not followed. This is an effort to streamline the
process.

The deadline to email your file to Debbie Rexine (rexined@upstate.edu) for printing is Tuesday,
March 5 by 5pm. NO EXCEPTIONS!

If you have questions regarding Powerpoint, designing your poster or would like to arrange a time to
format your poster with Sabra, please call her at (o)315-464-7904 or (c)315-382-0313 (pls text first if
outside Upstate phone system) between now and February 27.
Slots are available between 10am - 3pm Monday – Thursday.

SRC/SRD poster questions will not be answered via email.

To make arrangements for getting your file printed and picking up your poster, please call or email
Debbie (464-5878 or rexined@upstate.edu) only.

*Posters will be printed in the order they are received. Debbie will notify you via E-MAIL when
your posters are ready.

If you need additional posters the charge will be $90 for each 3' x 5' poster.
Thanks, Sabra and Debbie


Student Research Day FREE Print Checklist
Poster Submission by 3/5 by 5 pm - No Exceptions!

"FREE" Poster REQUIREMENTS:
Make appointment by 2/27 for poster design guidance (if necessary) w/Sabra
at o: 315-464-7904 or c: 315-382-0313 (text first if calling from outside Upstate)
Poster slide is 18"(h) x 30" (W)
Poster has been proofed (you will not get a chance for another free print)
File is saved as "lastname.pptx" ie: jefferso.pptx (up to 8 characters)
Poster contains correctly proportioned Upstate logo or round seal
Subject of email must contain "Student Research Celebration" in order to
receive confirmation of poster receipt
Email from your Upstate email account to avoid spam filters
Please refer to SRD website for instructions & poster suggestions pdf for complete information
More Information
Find additional event details here.
Please contact Shaunna Arnold in the College of Graduate Studies at (315) 464-4547 or arnoldsh@upstate.edu if you have any questions.
Please feel free to scroll through all the photos from this years program.