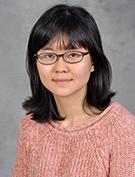 Name: Pei-Ju Liu 
Home Country: Taiwan
PhD Degree-granting Program: Cell and Developmental Biology
PhD Advisor: Dr. Mira Krendel
Description of Research Project:
Myosin 1e in maintaining the slit diaphragm of podocytes.
Favorite thing about SUNY Upstate:
All kinds of academic/career development workshops and service whic aim to build up a student to be part of the community.
Favorite thing about Syracuse or Central New York:
The nature scenery in Upstate New York is awesome! In Spring and Summer, there are a bunch of places you can go hiking within a day's driving. In the Winter, you can go outdoor ice skating in Clinton Square. It is also impressive to see the basketball or football games in the Carrier Dome. You never get bored living in syracuse.
Email: liup@upstate.edu
**Please only contact Global Ambassadors to hear about their road to Upstate as an international student and their transition to Syracuse and Upstate. Questions about admissions and applying should be directed to the College of Graduate Studies at biosci@upstate.edu or (315) 464-4538.