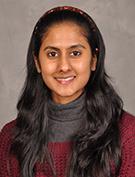 Name: Anna Miriam John
Home Country: India
PhD Degree-granting Program: Biochemistry and Molecular Biology
PhD Advisor: Dr. Stewart Loh
Description of Research Project:
Exploiting protein folding to design biosensors.
Favorite thing about SUNY Upstate:
Friendly and supportive staff and faculty.
Favorite thing about Syracuse or Central New York:
I enjoy being part of a warm and close-knit Christian fellowship and I like that Syracuse is not as crowded (think traffic) as some other cities.
Email: johnan@upstate.edu
**Please only contact Global Ambassadors to hear about their road to Upstate as an international student and their transition to Syracuse and Upstate. Questions about admissions and applying should be directed to the College of Graduate Studies at biosci@upstate.edu or (315) 464-4538.