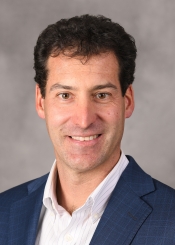 315 464-6888
Christopher Neville, PT, PhD
CURRENT APPOINTMENTS
SPECIALTIES
Orthopaedics/ Biomechanics
RESEARCH PROGRAMS AND AFFILIATIONS
College of Health Professions
EDUCATION
PhD:
University of Rochester, 2008, Health Practice Research - Biomechanics
MS:
Ithaca College, 2000, Physical Therapy
BS:
Ithaca College, 1999, Clinical Science
RESEARCH ABSTRACT
Study of Gait in children with Neuromuscular conditions
This area of research is a collaboration between the departments of Physical Medicine and Rehabilitation and Orthopaedic Surgery. We run a clinical gait analysis program that investigates gait impairments using instrumented gait analysis. This includes a full clinical, kinematic, kinetic and EMG analysis for use in developing treatment recommendations for kids with walking impairments.
Motion Analysis System - 10 camera Vicon (VICON Inc. Denver, CO; www.vicon.com) with 3 Kistler (Model 9287B) forceplates (Buffalo, NY). EMG. Software integration - The MotionMonitor Software (Innovative Sports Training, Inc. Chicago, IL; www.innsport.com).