Greg Goreczny
Greg enjoyed his 10 weeks as a SURF student so much, he knew he wanted to apply to Upstate for graduate school.
"It definitely refined the skills I learned as an undergrad," he said of his summer here in 2011. "I was able to get the feel of a bigger lab, and how a lab is run at an academic medical center."
Greg said the critical thinking and techniques he learned in the SURF program "definitely" helped with his research at Clarion University his senior year. "I did a lot of behavioral studies and biochemical analysis, and learned how the extra-cellular matrix affects cell processes," he said.
But it wasn't just the lab experience Greg enjoyed as a SURF student. Other pluses included the stipend and housing, weekly presentations by faculty, the support and camaraderie among students and faculty, fitness opportunities on campus and outdoor recreation spots in Central New York.
Greg graduated from Clarion in 2012 with a degree in molecular biology/biotechnology, and enrolled at Upstate.
Like all first-year students in the College of Graduate Studies, Greg is rotating among three labs before choosing a mentor. "Everyone's research is interesting," he said.
Chrissa Dwyer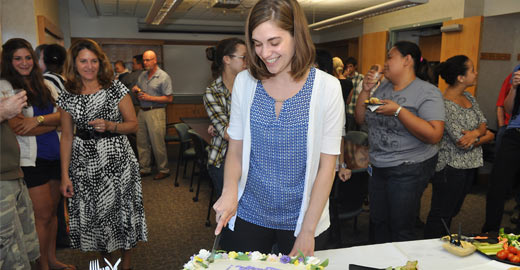 Chrissa Dwyer at a reception in her honor for successfully defending her PhD dissertation.
Chrissa participated in the SURF program in 2006 when she was a Biochemistry major at SUNY Plattsburgh. After earning her bachelor's degree in 2007, Chrissa enrolled in Upstate's College of Graduate Studies.
"The SURF program provided me with an opportunity as an undergraduate to gain first-hand experience working in a top-notch research lab," Chrissa said. "As a SURF student, I was exposed to concepts, methodology and equipment that reached beyond my undergraduate training. I gained valuable perspective into what it would be like to be a graduate student and pursue a career in biomedical research."
Chrissa earned her PhD in Neuroscience in 2013, graduating with honors. She landed a post-doctoral research position in the Department of Cellular and Molecular Medicine at the University of California San Diego.
Chrissa said her experiences as a SURF student were invaluable and a key factor in her decision to pursue and obtain a doctorate degree from SUNY Upstate.
"I think there are inherent qualities that make a person a successful scientist, including a passion for scientific discovery and motivation and drive to make a contribution to the world through science," Chrissa said. "I found incredible excitement in scientific research and original discovery, which fueled my passion to become a scientist."