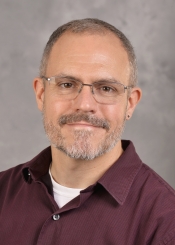 315 464-8569
RESEARCH PROGRAMS AND AFFILIATIONS
Biochemistry and Molecular Biology
Biomedical Sciences Program
Cell and Developmental Biology
RESEARCH INTERESTS
Understanding how muscle cells organize their actin cytoskeleton into efficient contractile units, using a combination of in vitro biochemistry, and analysis of cultured muscle cells and genetic models C. elegans and zebrafish.
EDUCATION INTERESTS
Histology for graduate and medical students.
ASSOCIATIONS / MEMBERSHIPS
American Association for the Advancement of Science (AAAS)
American Society for Cell Biology (ASCB)
EDUCATION
PhD:
Cornell University, 1999, Biochemistry, Molecular and Cell Biology
BS:
Cornell University, 1993, Biochemistry
RESEARCH ABSTRACT
The actin cytoskeleton is a network of protein filaments that populate the cell's cytoplasm. In muscle cells, a precise arrangement of these filaments allows for muscle contraction. Our primary goal is to understand at the molecular level how these filaments come to be arranged. Our focus is on the family of actin-organizing proteins called FHOD-family formins. The FHOD proteins are across animals, and are known to promote the proper organization of the muscle cell cytoskeleton, but details of how they contribute remain unclear. We are probing the functions of FHOD homologs through a combination of biochemical assays using purified proteins, microscopic studies using primary cultures of avian muscle cells, and genetic studies of muscle development in the model organisms Caenorhabditis elegans and the zebrafish Danio rerio.
PUBLICATIONS
Link to
PubMed
(Opens new window. Close the PubMed window to return to this page.)