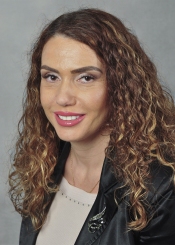 315 464-3774
Tamara Jamaspishvili, MD/PhD
RESEARCH PROGRAMS AND AFFILIATIONS
Biomedical Sciences Program
Pathology
RESEARCH INTERESTS
Dr Jamaspishvili is a Director of SUNY UpState PatholOgy REsearch Core & Digital Pathology (SUNY SPORE) located at the Department of Pathology. The Core mission is to provide efficient, high-quality histology and digital pathology services to internal and external researchers, including private sector companies and biopharma.
Dr Tamara Jamaspishvili is a research pathologist, translational research scientist focusing on developing, evaluating, validating, and applying tissue-based prognostic and predictive biomarkers and models for improved disease prognostication and management of cancer patients. Dr Jamaspishvili conducts multi-disciplinary collaborative translational research projects with the goal to develop innovative strategies to advance biomarker assessment using quantitative digital pathology, computer vision and artificial intelligence (AI). Dr Jamaspishvili has ongoing research interests in molecular and digital pathology of genitourinary cancers. She is now focusing on improving companion diagnostic biomarker testings for solid cancers in immuno-oncology using computer vision. She has ongoing collaborations with NCI/NIH and other national or international multi-disciplinary research groups. Dr Jamaspishvili and her team are open to academia-industry collaborations.
EDUCATION INTERESTS
Dr Jamaspishvili earned her PhD in Pathology and Forensic Medicine at Palacky University Olomouc, Czech Republic, followed by two competitive pathology research fellowship programs at Queen's University, Canada, funded by CIHR (Canadian Institutes of Health Research) and OICR (Ontario Institute of Cancer Research).
ASSOCIATIONS / MEMBERSHIPS
American Society of Clinical Oncology - ASCO
Digital Pathology Association (DPA)
United States and Canadian Academy of Pathology (USCAP)
EDUCATION
Fellowship:
Queens University, Kingston, Canada, 2020, Cancer Research
PhD:
Palacky University Olomouc, Czech Republic, 2011, Pathology
MD:
Tbilisi State Medical University, Tbilisi, Georgia, 2004, Medicine
PREVIOUS APPOINTMENTS
Queens University, Kingston, Canada, 2012-2021
PUBLICATIONS
Link to
PubMed
(Opens new window. Close the PubMed window to return to this page.)