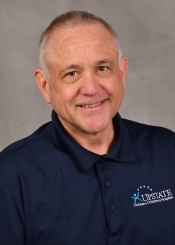 315 464-7588
Joseph Domachowske, MD
CURRENT APPOINTMENTS
SPECIALTIES
Pediatric Infectious Diseases
Pediatrics
RESEARCH PROGRAMS AND AFFILIATIONS
Biomedical Sciences Program
Pediatrics
RESEARCH INTERESTS
Pneumovirus pathogenesis.
ASSOCIATIONS / MEMBERSHIPS
American Academy of Pediatrics, Vice President District 2 Chapter 1
American Society of Tropical Medicine and Hygeine (ASTMH)
Infectious Diseases Society of America (IDSA)
Onondaga County Pediatric Society
EDUCATION
Fellowship:
National Intsitutes of Health, Laboratory of Host Defenses, 1997
Residency:
SUNY Health Science Center at Syracuse, 1992
MD:
SUNY Health Science Center at Syracuse, 1989
RESEARCH ABSTRACT
My laboratory program focuses on the molecular interactions between pneumoviruses and pulmonary epithelium. Short term goals include understanding the mechanisms of virus-induced alterations in epithelial cell gene expression. Longer term goals include developing and characterizing specific anti-viral and anti-inflammatory interventions for the treatment of viral bronchiolitis. We study these interactions in vitro, using tissue culture models, and in vivo using our rodent model of pneumovirus infection. Recently, we have also been successful in demonstrating the physiologic significance of results from our model systems in samples obtained from human infants with severe respiratory syncytial virus bronchiolitis.
PUBLICATIONS
Link to
PubMed
(Opens new window. Close the PubMed window to return to this page.)