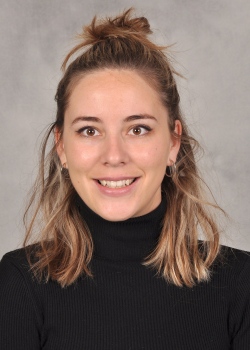 Name: Zsuzsa Szemere
Home Country: Hungary
Undergraduate education: University of Debrecen
PhD Degree-granting Program: Microbiology and Immunology
PhD Advisor: Dr. Eain Murphy
Description of Research Project:
We are working on identifying a potential host factor that can play an important role in the reactivation of HCMV (Human Cytomegalovirus).
Favorite thing about SUNY Upstate:
Comfortably- sized university, it is easier to be interactive with students and advisors.
Favorite thing about Syracuse or Central New York:
Lots of trees and parks. And the waterfalls around every corner.
What I do for fun:
Hanging out with friends while trying out breweries, reading, doing artsy things.
Email: szemerez@upstate.edu
**Please only contact Global Ambassadors to hear about their road to Upstate as an international student and their transition to Syracuse and Upstate. Questions about admissions and applying should be directed to the College of Graduate Studies at biosci@upstate.edu or (315) 464-4538.