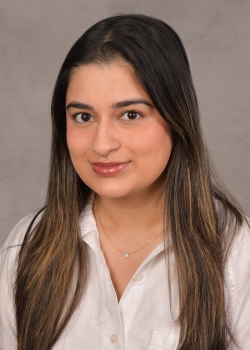 Name: Veronica Singh
Home Country: India
Undergraduate Education: SUNY Oswego
PhD Degree-granting Program: Pharmacology
PhD Advisor: Dr. David Auerbach
Description of Research Project:
My research focuses on investigating the prevalence of and susceptibility to seizures and sudden death in a Long QT Syndrome rabbit model with a long-term goal of mapping out a timeline for the series of multi-system events leading up to SUDEP.
Favorite thing about SUNY Upstate:
A stimulating and collegial environment that supports my goals as a budding scientist, both academically and socially in the greater scientific community.
Favorite thing about Syracuse or Central New York:
It's all about the food for me, and surprisingly I was able to find a lot of good spots in and around Syracuse with exceptional cuisine!
Email: singhve@upstate.edu
**Please only contact Global Ambassadors to hear about their road to Upstate as an international student and their transition to Syracuse and Upstate. Questions about admissions and applying should be directed to the College of Graduate Studies at biosci@upstate.edu or (315) 464-4538.