Name: Joy Park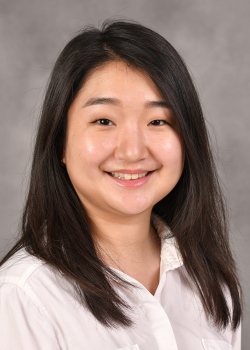 Home Country: South Korea
Undergraduate Education: Hunter College, Class of 2017
PhD Degree-granting Program: Biochemistry and Molecular Biology
PhD Advisor: Dr. Andras Perl
Description of Research Project:
I study the role of proinflammatory T cell skewing in systemic lupus erythematosus.
Favorite thing about SUNY Upstate:
My favorite thing about Upstate is the faculty student ratio and that it's a very student-focused institution.
Favorite thing about Syracuse or Central New York:
Syracuse is very quiet compared to NYC, and they say that you can get to anywhere in Syracuse within 20 minutes.
What I do for fun: Posting on my studygram!
Email: parkjoy@upstate.edu
**Please only contact Global Ambassadors to hear about their road to Upstate as an international student and their transition to Syracuse and Upstate. Questions about admissions and applying should be directed to the College of Graduate Studies at biosci@upstate.edu or (315) 464-4538.