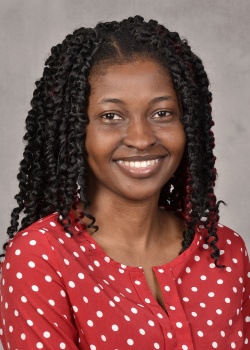 Name: Yetunde Kayode
Home Country: Nigeria
Undergraduate Education: B.Sc. Microbiology. University of Ilorin, Nigeria (Class of 2015)
PhD Degree-granting Program: Microbiology and Immunology
PhD Advisor: Dr. Harry Taylor
Description of Research Project:
My research focuses on understanding how CD4 T cell metabolism impacts HIV-1 latency
Favorite thing about SUNY Upstate:
The close-knit & supportive scientific community.
Favorite thing about Syracuse or Central New York:
CNY has lots of beautiful natural attractions such as lakes, waterfalls & mountains.
What I do for fun: Outdoor activities (hiking/camping), Seeing movies
Email: kayodey@upstate.edu
**Please only contact Global Ambassadors to hear about their road to Upstate as an international student and their transition to Syracuse and Upstate. Questions about admissions and applying should be directed to the College of Graduate Studies at biosci@upstate.edu or (315) 464-4538.