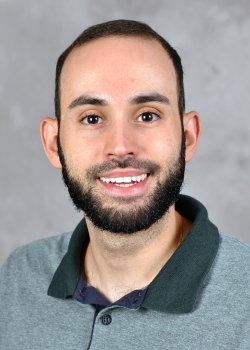 Name: Leonardo Garcia Dettori
Home Country: Brazil
Undergraduate Education: Federal University of Itajuba (Brazil) and University of Rochester (US) - 2018
PhD Degree-granting Program: Biochemistry and Molecular Biology
PhD Advisor: Dr. Alaji Bah
Description of Research Project:
I conduct research on how disordered proteins regulate R-loop function. R-loops are a form of RNA-DNA hybrids that, when dysregulated, can lead to cancer and neurological disorders. Thus, several different proteins evolved to regulate R-loop formation and resolution in a  timely manner. My research focuses on the structural and biophysical characterization of how intrinsically disordered proteins interact with R-loops.
Favorite thing about SUNY Upstate: SUNY Upstate has a very friendly community.
Favorite thing about Syracuse or Central New York: Syracuse is a very multicultural city!
What I do for fun: In my free time, I like to play videogames and watch movies/TV series. I also love to hang out with my friends and spend time with my cats.
Email: dettoril@upstate.edu
**Please only contact Global Ambassadors to hear about their road to Upstate as an international student and their transition to Syracuse and Upstate. Questions about admissions and applying should be directed to the College of Graduate Studies at biosci@upstate.edu or (315) 464-4538.