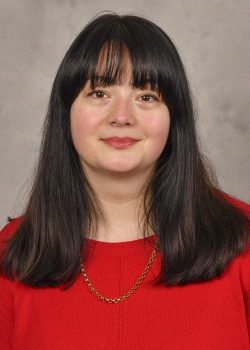 Name: Ana Strat
Home Country: Romania
Undergraduate Education: Manhattan College, 2013
Graduate Education: The City College of New York
PhD Degree-granting Program: Neuroscience
PhD Advisor: Dr. Preethi S. Ganapathy, MD, PhD
Description of Research Project:
In our lab we study the neurodegenerative disease, Glaucoma, which leads to irreversible blindless due to a progressive loss of retinal ganglion cells (RGCs). The intricate mechanism behind this neuropathy remains unknown with most treatments aiming to lower the only modifiable risk factor, the intraocular pressure. There is evidence that astrocytes, the supporting cells to RGC axons, are immediately responsive to IOP-associated biomechanical strain within the optic nerve head. As such, my project investigates how astrocytes sense and respond to biomechanical cues with a focus on mechanosensitive channel Piezo1, and ultimately how these mechanoresponses can promote or affect axonal health. To better understand astrocyte mechanotransduction, we employ the use of a novel in vitro 3D hydrogel system as well as an in vivo mouse model.
Favorite thing about SUNY Upstate:
I personally love the constant beehive of activity in labs with students and postdocs all working closely together in a collaborative manner. I found that many PIs here are great at mentoring and communicating the joy of discovery in research. As an umbrella program, it's exciting to rotate and explore all the different departments. Having joined the program with a desire to study neuroscience, I was convinced I would primarily focus on brain disorders, and much to my surprise, one rotation in the center for vision research had captured my curiosity to study glial dysfunction within the eye! I had found the eye to be a universe all on its own! In grad school it is crucial to have all the tools to develop your thinking as a scientist, and it has been my experience that Upstate supports its students strongly in this fashion from the administrative staff to the classes we take, and the great faculty and mentors here.
Favorite thing about Syracuse or Central New York:
Upstate is located in beautiful Central NY. We can experience both the city life, and all the nature surrounding it. The Green Lakes are really close by! There are several small towns with fun activities all year long, and pretty decorations around the Holidays. Some of the vineyards here are another fun thing to explore for any vino lover. The landscape is absolutely gorgeous during the summer, and to see the leaves turn color during fall peak season is amazing! I'm a child at heart and enjoy playing in the snow so I think winters can be lots of fun too! Coming from NYC, I love that I can always go back to visit family and friends for a long weekend.
What I do for fun:
I'm a big nature person so I like to spend time gardening and going on nature walks. I enjoy having a good time with my family and friends cooking and "engineering" new wine flavors every year. But I also love some quiet time reading a good book and scribbling little words on a piece of paper just for myself.
Email: stratan@upstate.edu
**Please only contact Global Ambassadors to hear about their road to Upstate as an international student and their transition to Syracuse and Upstate. Questions about admissions and applying should be directed to the College of Graduate Studies at biosci@upstate.edu or (315) 464-4538.