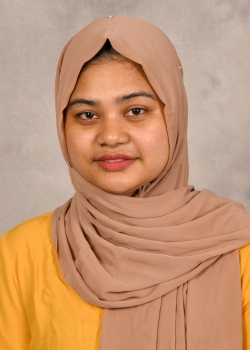 Name: Dilruba Akter
Home Country: Bangladesh
Undergraduate Education: University of Dhaka, B.S. Honors-2015
Graduate Education: University of Dhaka, M.S.-2016
PhD Degree-granting Program: Microbiology and Immunology
PhD Advisor: Dr. Gary Chan
Description of Research Project:
Investigating how Human Cytomegalovirus uses host cell proteins to facilitate viral replication
Favorite thing about SUNY Upstate:
Friendly working environment, cooperating advisors, high efficiency of administrative staff. As an umbrella program, you can choose your own interest and research.
Favorite thing about Syracuse or Central New York:
Syracuse is a small city but has everything you need. I like the fact that Syracuse has less traffic and crowds than my hometown. That being said, there are many places, particularly state parks, around Syracuse that are good for weekend getaways and exploration.
What I do for fun: I like reading books. I also like traveling a lot. My husband and I absolutely love to go different places to explore during the summer and fall.
Email: akterdi@upstate.edu
**Please only contact Global Ambassadors to hear about their road to Upstate as an international student and their transition to Syracuse and Upstate. Questions about admissions and applying should be directed to the College of Graduate Studies at biosci@upstate.edu or (315) 464-4538.