Section of Hospital Medicine
Hospital Medicine, University Hospital
Upstate University Hospital
Room 1103A,
750 East Adams Street
Syracuse, NY 13210
Map & directions
Phone:
315 464-7085
Fax:
315 464-2140
Name:
Tara Mathews, Associate Chief of Administration for Hospital Medicine
Email:
mathetar@upstate.edu
A hospitalist is a physician who specializes in treating hospitalized patients. At Upstate University Hospital Downtown Campus, hospitalists concentrate on the unique aspects of patient care during their stay. Hospitalists manage medical problems throughout your hospital admission, coordinating and consulting with specialists, closely monitoring your progress, and staying in close contact with you, your family and your primary care physician.
Hospitalists are available around the clock and are dedicated to providing safe, high quality care to you during your hospital stay.
The benefits of a hospitalist include:
Professional 24-hour care by highly trained physicians experienced in the specialized area of inpatient hospital care.
Prompt follow up of tests and adjustment of your treatment regimen throughout the day as needed.
Intense focus on patient education.
Convenient and timely access to hospitalist staff for medical treatment and family conferences.
Member of the hospitalist team is available immediately in case of an emergency.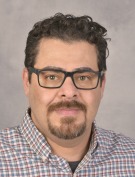 Housam Hegazy, MD, FACP
Chief of Hospital Medicine,
Medical Director of Utilization Management,
Medical Director of Hospital Medicine
Ali Khan, MD
Associate Medical Director of Hospital Medicine