Facilities/Care Locations: Division of Gastroenterology, Endo Suite
Expand all
Emergencies
A physician is available by phone 24 hours a day and is reached through the main phone numbers. When patients call the appropriate phone number, their call will be transferred to the answering service who will relay the message to the on-call physician. The on-call physician or resident will respond to the call as soon as possible for further guidance.
Life-threatening emergencies: Patients should call 911 for an ambulance to transport them to the nearest hospital or emergency department.
Parking is available in adjacent lots for a nominal fee.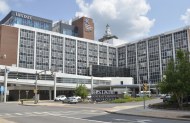 | | |
| --- | --- |
|      | Andrea Hone, RN has worked as an RN for Upstate University Hospital for the past 14 years.  She worked both in the Pediatric ICU and Surgical ICU.  Andrea was the Patient Service Supervisor for the 5e Pre & Post Care unit for 5+ years and is now currently working as the Endoscopy Nursing Unit Director. |