Clinical trials are research studies that people volunteer to join to evaluate new drugs, devices, or procedures. New, more effective, treatments are developed as a result of people having participated in clinical trials.
Most of the standard treatments used today were tested and shown to be effective through clinical research studies.
Clinical Trials Team
Colleen Dillenbeck
Clinical Research Associate II
dillenco@upstate.edu
I have worked in clinical research in various areas of medicine including orthopedics, multiple sclerosis, and oncology. I joined the Geriatrics department in June of 2019 and am excited to be coordinating studies for dementia and Alzheimer's disease. I feel it is so important to offer these clinical trials to our patients so that we can find better treatments for these diseases and help future patients and their families.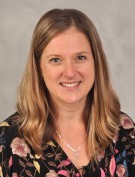 Megan Schuler, LPN
Clinical Research Coordinator
schulerm@upstate.edu
I have been an LPN for over 15 years. I have worked in Alzheimer's / Dementia Units, endocrinology, home care and family care nursing. I am new to research and have recently joined the Geriatrics Department and am hopeful that in helping coordinate studies in memory loss, Alzheimer's and dementia we can help and find new ways to aid with these diseases.
Current Clinical Trials
The Upstate geriatrics team is involved in several clinical trials for Alzheimer's patients. See the listing of current geriatric clinical trials for more information.