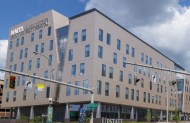 We are Moving!
As of June 9, 2023, the office of University Geriatricians is seeing patients at the Nappi Wellness Institute. Our new office is in the building at the corner of East Adams St and Sarah Loguen St, across from Upstate University Hospital.
Geriatrics is the branch of medicine that focuses on health promotion and the prevention and treatment of disease and disability in later life.
- The AGS Foundation for Health in Aging.
Follow Upstate Geriatrics
Department of Geriatrics
Jacobsen Hall
2nd Fl
175 Elizabeth Blackwell Street
Syracuse, NY 13210
Google Maps & Directions
Phone:
315 464-5167
Fax:
315 464-5771
Name:
Anne Lutz, Department Secretary
Email:
lutza@upstate.edu