Physical Disabilities Program
Center for Development, Behavior and Genetics
Physicians' Office Building
Suite 112,
725 Irving Avenue
Syracuse, NY 13210
Map & directions
Phone:
315 464-6395
Fax:
315 464-6398
The Physical Disabilities Program provides specialty care to children who have disabilities from conditions such as cerebral palsy, vision impairment or blindness and genetic disorders.
Some children may be referred for a single visit, while others may receive ongoing care for complex medical problems. Our team of specialists care for medical, behavioral and developmental issues. We help to establish a diagnosis and develop a care plan. We work with other pediatric specialists and surgeons.
The program is staffed by a pediatrician who is board-certified in neurodevelopmental disabilities and professionals in occupational therapy, physical therapy, nutrition and specialty nursing.
Meet Our Team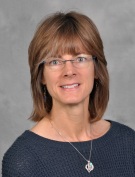 Amanda Wolcik, RN
Maddy Locastro, Equipment Coordinator
Resources
The Cerebral Palsy Foundation: Dedicated to transforming lives for people with cerebral palsy today through research, innovation, and collaboration. 
Cerebral Palsy Tool Kit: From diagnosis to understanding
Cerebral Palsy Daily Living: Journal and resources for parents and caregivers of children with cerebral palsy
Healthy Transitions: transform your health by transitioning the way you eat.
Syracuse Adaptive Design Association: an interdisciplinary, community-based initiative to ensure that people with disabilities have the equipment they need to live vibrant, full lives.
Fitness Inclusion Network: an interdisciplinary group of athletes, students, families, and professionals in adapted physical education, medicine, physical therapy, occupational therapy, engineering, therapeutic recreation, special education, social work, and disability policy and law.
Accessible Gardening: Gardening can become part of a healthy and active lifestyle for people with disability with some simple adaptations to the garden, gardener, and plants. 
Accessible Walking Club: How to create an inclusive walking club.
Ballet for All
Equipment Information and Tips
Schedule an Appointment
If you are a provider within the community, or a self referral, please call Central Scheduling at 315 464-4014, to schedule an appointment.