Center for Development, Behavior and Genetics
Physicians' Office Building
Suite 112,
725 Irving Avenue
Syracuse, NY 13210
Map & directions
Phone:
315 464-6395
Fax:
315 464-6398
A metabolic disorder can lead to abnormal levels of chemicals in the body because the body's chemical reactions are not working properly. These include conditions like biotinidase deficiency, galactosemia, organic acid disorders, PKU and may others.
By law, all babies born in New York state are tested for many metabolic conditions. Abnormal results for newborns in our area are then reported to our Center. Evaluation and ongoing care in our program are provided by a team that includes a pediatric geneticist, nutritionist, nurse practitioner, social worker, nurse, and genetic counselor.
Families are provided with information about their child's condition, recommendations for ongoing treatments, including diet and medications, information about community and national resources, and support to help them with their child's condition within their family.
Meet Our Team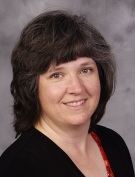 Jill Boyer, LCSW-R
Melissa Byler, CGC
Amy Merwarth, RD, CDN, CSP
Cindy Serviss, RN-5.CPN, CLC
Services
Mutidisciplinary evaluation and management for individuals with inborn errors of metabolism
The Metabolic Program provides multidisciplinary care for individuals with inborn errors of metabolism. These individuals are managed with a team approach involving specialized diet, supplements and medications.
IMDSC – evaluation for newborns with abnormal metabolic newborn screens
We serve as a designated follow-up treatment center for the New York State Newborn Screening Program for metabolic disorders. Newborn screening is a cooperative system of state labs, metabolic centers, primary care providers and parents working together to assure that all infants born in New York are screened for a panel of disorders including inborn errors of metabolism. Last year over 200,000 babies were screened.
Within 48 hours of birth, all babies are screened for more than 40 inborn errors of metabolism. A small sample of blood is taken from the heel of your baby and sent to New York State's Wadsworth Laboratory in Albany, NY. These tests ensure that timely referral and treatment will occur for your baby. Babies who test positive for these disorders are referred to the Inherited Metabolic Disease Specialty Center for evaluation (including a social history and physical exam) and further diagnostic testing.
If your child is diagnosed with a metabolic disease, one of our board-certified pediatric genetic and metabolic specialists will provide a treatment plan for your child's disorder. Each child receives a comprehensive evaluation for his or her special medical needs. In addition, we perform periodic cognitive and developmental evaluations of children referred from the Newborn Screening Program. Support services offered to these children and their families include:
Identifying resources concerning a particular disorder.
Education about the disorder.
Self-care training for patients and families.
The division of pediatric genetics works closely with the New York State Newborn Screening Program to ensure the provision of expert services for children.
Care and management for Lysosomal storage diseases including infusion therapy
The Lysosomal storage program provides evaluation and management for individuals with genetic disorders involving excessive storage of material in cells. Common conditions treated at our center include: Gaucher, Pompe, Fabry, Hurler, Hunter, Morquio and Maroteaux-Lamy for which enzyme infusion therapy is available.
Our team includes a geneticist, genetic counselor, nurse practitioner, dietitian, social worker and a registered nurse.
Tests and Procedures
Tests can often resolve uncertainty about genetic risks and confirm a diagnosis. For most patients, testing involves taking only a blood sample. A few tests involve taking hair, skin, or other tissue samples.
Tests may include:
Biochemical genetic testing
Next generation sequencing
Chromosome analysis
Chromosomal microarray analysis
FISH analysis
Diagnostic radiology
Skin biopsy
Confirmation of abnormal newborn screen
Parental and carrier genetic testing
Resources for Patients and Families
Schedule an Appointment
If you are a provider within the community, or a self referral, please call Central Scheduling at 315 464-4014, to schedule an appointment.