The Spina Bifida Center of Central New York provides comprehensive specialty care to children and adolescents with spina bifida. The center is staffed by a pediatrician who is board certified in neurodevelopmental disabilities, and professionals in physiatry, occupational therapy, physical therapy, social work, nutrition and specialty nursing. We coordinate care with surgeons in neurosurgery, orthopedics, and urology. We also collaborate with specialists in wound care and facilitate the ordering of adaptive equipment.
Meet Our Team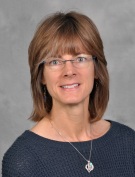 Barbara Lindenmayer, NP
Michele Lamb, BSN, RN-BC
Cindy Serviss, RN-5, CPN, CLC
Jill Boyer, LCSW-R
Christine Whitney, DPT
Amy Merwarth, RD, CDN, CSP
Maddy Locastro, Equipment Coordinator
Resources
Healthy Transitions: transform your health by transitioning the way you eat.
Syracuse Adaptive Design Association: an interdisciplinary, community-based initiative to ensure that people with disabilities have the equipment they need to live vibrant, full lives.
Fitness Inclusion Network: an interdisciplinary group of athletes, students, families, and professionals in adapted physical education, medicine, physical therapy, occupational therapy, engineering, therapeutic recreation, special education, social work, and disability policy and law.
Accessible Gardening: Gardening can become part of a healthy and active lifestyle for people with disability with some simple adaptations to the garden, gardener, and plants. 
Accessible Walking Club: How to create an inclusive walking club.
Ballet for All
Equipment Information and Tips
Schedule an Appointment
If you are a provider within the community, or a self referral, please call Central Scheduling at 315 464-4014, to schedule an appointment.