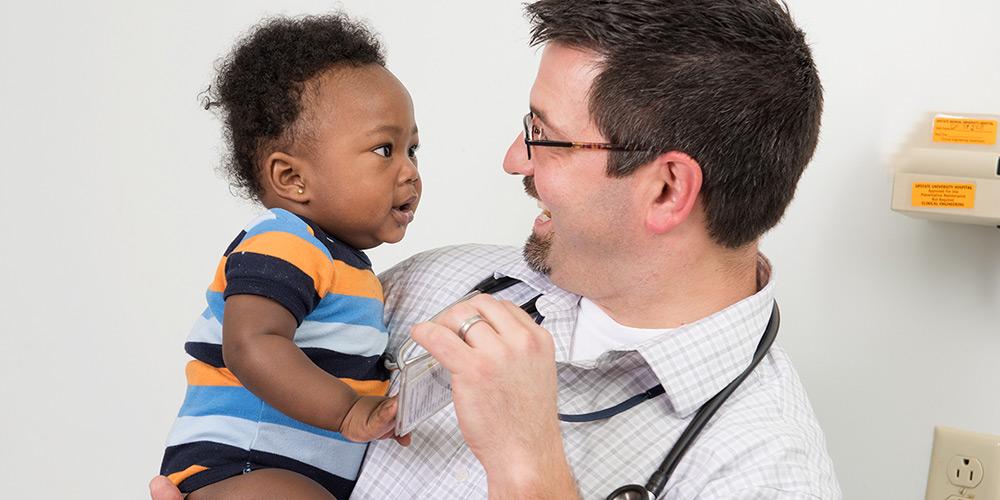 Pediatric Clinical Services
As the Region's only Level 1 Trauma and Burn center, the Upstate Golisano Children's Hospital offers a complete range of health care services for children from birth to 19 years of age. Our dedicated pediatric providers and staff care for patients in an inpatient setting that consists of General Pediatrics, Pediatric Surgery Unit, Hematology/ Oncology, and the only Pediatric Intensive Care Unit in our large referral area and the only dedicated pediatric Emergency Department between Rochester and Vermont. In addition, the Children's Hospital offers full spectrum of ambulatory services including primary care and several nationally recognized specialty medical care programs.
Browse the Pediatric Services and Clinics A-Z list to find a comprehensive list of clinics providing services. Use the Find a Doctor link to get more information about a doctor or to search for doctors with a particular specialty or who treat specific diseases.
Pediatrics
Adolescent Medicine
Adverse Drug Reactions - Pediatric
Asthma Treatment
Child Abuse/Protection
Clinical Management Guidance to Healthcare Providers
Development, Behavior, and Genetics
Early Intervention and Preschool Therapy
Integrative Medicine
Lead Poisoning Education to Health Care Providers
Neonatology
Occupational and Environmental Exposures - Pediatric
Outpatient Nutrition Counseling - Pediatric
Pathology and Laboratory Medicine - Pediatric
Pediatric Acute Care Surgery
Pediatric Anesthesia
Pediatric Blood Tests
Pediatric Burn Treatment
Pediatric Cancer and Blood Disorders
Pediatric Cardiac Surgery
Pediatric Cardiology
Pediatric Congenital Cardiac Surgery
Pediatric Critical Care
Pediatric Dental Service
Pediatric Diabetes and Endocrinology
Pediatric Ear, Nose and Throat (ENT)
Pediatric Electroencephalography (EEG) Lab Service
Pediatric Emergency Services
Pediatric Ethics Consultation
Pediatric Eye Care Services
Pediatric Feeding Disorders Program
Pediatric Foot & Ankle Surgery
Pediatric Gastroenterology
Pediatric HIV
Pediatric Hematology/Oncology
Pediatric Hospital Medicine
Pediatric Immunology and Infectious Disease
Pediatric Knee Surgery
Pediatric Laparoscopic Surgery
Pediatric Minimally Invasive Surgery
Pediatric Nephrology
Pediatric Neurology
Pediatric Neurosurgery
Pediatric Occupational Therapy
Pediatric Orthopedic Trauma
Pediatric Orthopedics
Pediatric Palliative Care
Pediatric Physical Medicine and Rehabilitation
Pediatric Physical Therapy
Pediatric Plastic Surgery
Pediatric Poison Emergency
Pediatric Primary Care
Pediatric Psychiatry
Pediatric Pulmonology
Pediatric Rheumatology
Pediatric Scoliosis Surgery
Pediatric Shoulder Surgery
Pediatric Sleep Medicine
Pediatric Spine Surgery
Pediatric Surgery Services
Pediatric Surgical Critical Care
Pediatric Urology
Severe Behavior Program