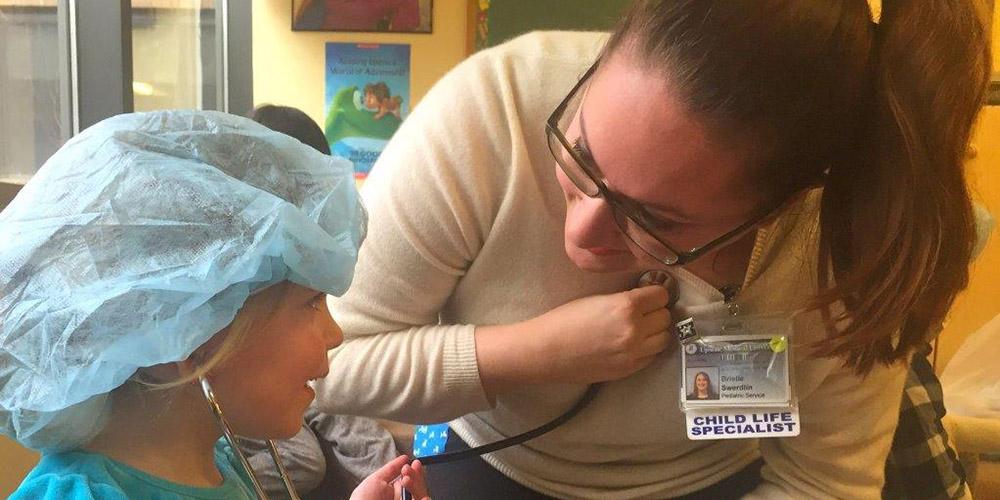 Child life specialists (CLS) are members of the multidisciplinary team who help patients and families cope with their medical experience. Utilizing the variety of techniques found below, child life specialists help to meet children's social, emotional, and developmental needs while in the hospital.  
Developmentally-Appropriate Preparation 
Using language and tools that encourage a child's understanding, child life specialists help children understand what they will be experiencing in the hospital.
Procedural Support
During tests, procedures, or medical care, child life specialists provide support to help a child through their experience by encouraging coping strategies and helping to minimize stress or trauma.
Play 
Play is an essential part of a child's life. In the hospital, we provide opportunities for play to create a more normal environment, encourage healthy development, and allow a safe space for a child to work through their emotions.
Diagnosis Education 
With resources and language appropriate for a child's development, child life specialists can teach children about their new diagnosis and the care or procedures that may accompany it.  
Sibling and Family Support 
A child's hospitalization affects the whole family. Child life specialists support caregivers and siblings through their coping process. Additionally, child life specialists can provide education to siblings about what their brother or sister may be experiencing.
Grief and Bereavement Support
Child life specialists are specifically trained in supporting siblings and family during end of life. Developmentally appropriate resources and remembrance items can also be provided.
Patient Therapies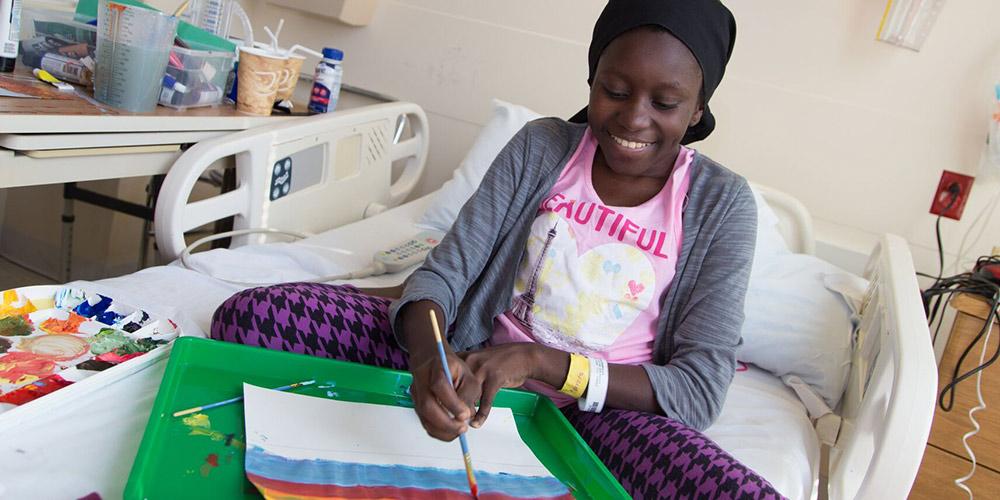 Art therapy, the therapeutic use of art making, provides a bridge for children in a healthcare setting. This bridge may allow them to express their thoughts and feelings, and with the help of the art therapist, to process what they may find difficult to share in words. The hospital setting can be both a frightening and overwhelming place for children. Their choices and control over their medical situation can be limited or non-existent. The art therapy session provides hospitalized children with the opportunity to control both the process and product during session, improving their ability to cope with hospitalization.
The Gaming and Technology Specialist provides appropriate gaming and technology experiences at the bedside based on assessment in collaboration with the Child Life team. They will keep informed and up-to-date on the latest technology that could be utilized for stress and pain management, alternative focus, socialization, and education with relation to patient care.  Additionally, the Gaming and Technology Specialist will maintain the physical and digital upkeep of all gaming and technology assets in the Child Life Program. Future plans include the utilization of Virtual Reality, 3D Printing, and hosting special gaming related events.
Music therapy is the clinical, evidence-based use of music interventions to achieve individualized goals within a therapeutic relationship. Music therapists assess patients' needs, develop treatment plans using music, and provide music interventions according to the treatment plan. In a hospital, music therapy can help to:
reduce pain and anxiety,
promote positive changes in mood,
provide avenues for self-expression,
encourage positive coping strategies,
support rehabilitative goals, and
assist patients and families in coping with all aspects of illness and hospitalization.
Music therapists are nationally board certified and have completed an approved music therapy degree program. The music therapist works closely with child life specialists, doctors, nurses, and other members of the healthcare team in treatment planning and evaluation.
Learn more about music therapy at the American Music Therapy Association (AMTA).