For those thinking of entering a career in academic medicine or who have a particular interest in a sub-specialty, the opportunity to do research during residency can be attractive. The faculty in pediatrics have been very supportive in helping residents with case reports, small clinical research studies, and bench research. It is very feasible to structure time to do research in a specific area during residency training. Please see our biannual department report.
From designing and implementing a research project to writing up grant proposals, submitting abstracts to peer-reviewed journals, and presenting your research in public, you can do it all here. Residents have been involved in projects that have ranged from smoking cessation interventions to testing monoclonal antibodies against RSV, and if you're willing to do the work you can generally find a supportive faculty member to help you with whatever you need.
There are monthly research conferences as part of the departmental schedule, and there are plenty of opportunities to discuss any original work at the PL-1 talks and Grand Rounds warm-ups. There is an annual research day where students, residents and faculty present their work. Our department actively participates at national meetings such as the Pediatric Academic Societies (PAS) meeting or the Medical Society of the State of New York (MSSNY), and it's not unusual for a resident or two to have posters or talks at these meetings.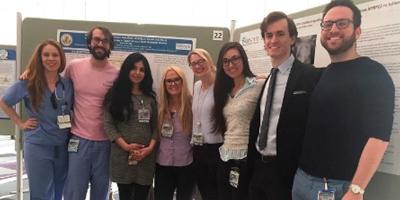 Resident Publications
Below is a partial list of some past resident publications or presentations from the pediatric department. Resident names are highlighted.
Uzma Rani, Jana Shaw.  JPHMP-D-20-00243R1, entitled "Public Education Interventions and Uptake of Human Papillomavirus Vaccine: A Systematic Review."  accepted for publication in Journal of Public Health Management & Practice 
Veena Gopalakrishnan, Aarani Kandipan, Increasing Flu Vaccinations in Vaccine Hesitant Families Using a Standardized Educational Approach. QI Conference June 4-5Kansas City Missouri
Assif JW, Kandeepan A, Schafer M. Headaches and Increased Growth Percentiles in a 5-Year-Old Male. Clin Pediatr (Phila). 2020 May;59(4-5):519-521. doi: 10.1177/0009922820901874. Epub 2020 Jan 27. PMID 31984764
Prendergast, Griesman, Karahalios, HEMATOLOGIC CHANGES IN CYANOTIC CONGENITAL HEART DISEASE: A REVIEW.  Progress in Pediatric Cardiology, 1/2020
Assif, James; Kandeepan, Aarani; Schafer, Melissa: and Increased Growth Percentiles in a 5-Year-Old Male. Accepted to Clincal Pediatrics, 12/19.
Anderson J, Kandeepan A, Wratney A, Zuccaro J. 463: Type B Lactic Acidosis Patient With Crohn's Disease and Thiamine Deficiency. Critical Care Medicine, 2020; 48(1):323. doi: 10.1097/01.ccm.0000620196.18180.80
Sarah Au, Jacob Anderson, Julia Ciurria – Two Cases of Postoperative Medullary Hemorrhage Following Tonsillectomy and Adenoidectomy. SCCM - February 16-19, 2020, Orlando FL
Karahalios, D. An Amish neonate with fatal cardiomyopathy due to homozygous MYBPC3 mutation.  Presented at American Society of Human Genetics Conference, Oct 17, 2019 
Kimberly Wells, Kristen Hornick, Laura Miller, Lina Bourjas, Christina Lupone, Andrea Shaw.A complicated case of pediatric obesity; an increasing public health challenge for refugee families. Presented at North American Refugee Health Conference, June 2019. 
Carlee Lenehan, Jacob Anderson, Timothy Olubayo,  Andrea Shaw,  Vincent Calleo.  A Rare Case of Coma from Untreated Carbamazephine Overdoes in Kenya. Poster accepted at the ICEM19 (18th Internat. Conf. on Emerg. Med), in Seoul, Korea, June 12-15, 2019. 
Jake Anderson, Rohan Akhouri, Aarani Kandeepan, Carlee Lenehan. "Low-fidelity Simulation Curriculum Improving Resident Patient Care Management" Abstract and oral presentation.  Pediatric Academic Societies meeting. April 27-April 30, 2019 in Baltimore, MD. 
Samara Appelstein, Joshua Griesman, John Eroes, Jennifer Nead, Danning Huang. Consulting for Confidence – Improving Medical Student Comfort with Core Entrustable Professional Activities through a Workshop for Calling Consults.  accepted for Pediatric Academic Societies meeting. April 27-April 30, 2019 in Baltimore, MD.