For more than eighty years, the Department of Pediatrics has maintained a residency training program in general pediatrics that provides residents with a strong foundation in primary care pediatrics, acute care medicine, and subspecialties.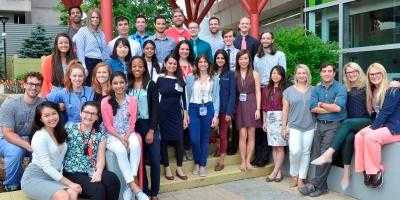 Our collegial environment allows a "hands on" approach with a high faculty to resident ratio. Due to the large catchment area served by the Department, residents directly care for patients with a vast array of medical problems, from common primary care issues to the most unique subspecialty conditions. Residents are actively involved in varied learning experiences such as resident run journal clubs, research and pathophysiology conferences, case-based ambulatory care and subspecialty conferences, daily rounds with faculty, weekly grand rounds, and regular discourse with visiting professors.
Innovative Curriculum
Our all-encompassing curriculum has successfully prepared residents for careers in primary care and for fellowship training. We achieve this through direct patient care, interactive conferences, and resident presentations. Our residents receive didactic education in two formats: face-to-face and online. Our residents have protected time every Thursday morning for conferences. In addition, residents rotating in the outpatient clinic, the adolescent clinic, and the newborn nursery have interactive sessions three times a week. Our innovative online curriculum covers every pediatric subspecialty and allows the residents to work through material at his or her pace.
Career-Focused Pathways
We have organized our career-focused training into four distinct pathways for our trainees:
The primary care pathway is intended for residents seeking a career in general pediatrics, either in an academic or private practice setting.
The international/underserved pathway is for trainees who have an interest in working with underserved populations, either stateside or internationally.
The hospital medicine pathway benefits residents who are looking to work as hospitalists or intensivists (pediatric or neonatal intensive care).
The subspecialty pathway, is for trainees looking to enter fellowship training at the end of residency.
The Right Case Mix
Approximately one half of all hospital admissions represent common problems frequently encountered by primary care pediatricians. The remainder of admissions represent patients referred from a large geographic area with a range of therapeutic and diagnostic subspecialty challenges.
Opportunities for Research
For residents considering academic medicine, or who have a particular interest in a sub-specialty, the opportunity to do research during their residency can be attractive. The faculty in pediatrics is very supportive in helping residents with case reports, small clinical research studies, and even bench research. With the elective months, it is very feasible to structure time to do research in a specific area.
Opportunities for International Health
The Upstate Pediatric and Adolescent Clinic is a primary care home in Syracuse for generations of refugees from all over the world. Syracuse resettles more refugees per capita than anywhere in New York State and is among the top sites in the nation for refugee resettlement. In 2016, we resettled more than1,400 refugees and over 50% of them were children, from countries throughout the Middle East, Africa, Southeast Asia, Eastern Europe, and Central America. 
The Pediatric International Health Clinic is a refugee clinic that serves primarily African Refugees from Sudan, Somalia and recently Liberia. These patients present with a unique spectrum of tropical diseases that are not otherwise encountered on a routine basis in a typical North American urban setting including:
Active Tuberculosis
Malaria
Schistosomiasis/Strongyloidiasis
Chronic Hepatitis
Giardiasis
Amebiasis
Helminths (assorted varieties)
Nutritional Rickets
Through our collaboration with Upstate's Center for Global Health (
http://www.upstate.edu/cghats/
), we have long term research and clinical sites in Ecuador and Thailand, as well as developing sites in Haiti and Kenya where Upstate's pediatric residents can gain overseas experiences alongside our faculty mentors as part of their residency training. These opportunities will undoubtedly engage your learning, broaden your horizon, and enhance your training as future pediatricians!