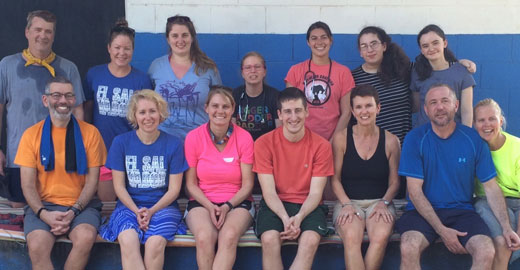 Josh Bonville, Class of 2016, was an RMED traditional student in Oneida, near his hometown of Wampsville. 
He matched in pediatrics and finished his residency at the Children's National Medical Center in Washington, DC. Dr. Bonville is an Assistant Professor of Pediatrics at SUNY Upstate and lectures for our Introduction to Rural Health Course.
"RMED is a fantastic program that allowed me to become a big part of the community I grew up in," Josh said. "It allowed me tons of increased patient contact time in Canastota and Oneida, and allowed me to build a strong bond with members of the community."
Josh used that clinical experience in El Salvador in February, when he accompanied a Young Life group and several Upstate physicians and nurses to a rural clinic in Rancho Grande.
Joseph Domachowske, MD, professor of Pediatrics and Microbiology & Immunology, has been to El Salvador many times. Josh's mother, Cynthia Bonville, is a medical technologist who works for Dr. Domachowske in the Pediatric Immunology and Infectious Disease program at Upstate University Hospital.
Josh has known Dr. Domachowske for years and shadowed him while in high school and college at Binghamton University, where he majored in cell and molecular biology.
"It's been a passion of Dr. Domachowske's forever, and I've heard about the trips for years and years, so it worked out perfectly with my fourth-year schedule," Josh said.
Read more about Josh here:
http://blogs.upstate.edu/withdistinction/2016/03/25/el-salvador-medical-mission-a-highlight-for-future-pediatrician/
Dr. Bonville graduated in 2016 and matched into the Pediatrics Residency Program at the Children's National Medical Center in Washington DC.