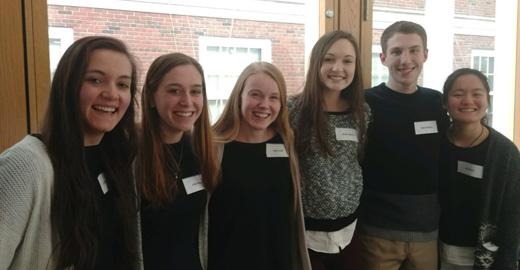 FAMP 1646: Introduction to Rural Health (MS1&2)
The elective runs concurrently across two preclinical years. This lecture-discussion course provides topical sessions on the state of rural health across our New York State regions. Physicians and community leaders offer unique perspectives on the challenges and benefits of providing care to underserved, rural patients. Sessions may include: mental and behavioral health, substance abuse disorders, wilderness medicine, caring for military families, and farming and occupational health. The course meets once a month for 2 hours, August through March. For their final project, medical students mentor small town high school students using a clinical case. High school students learn differential diagnosis, treatment, and potential barriers to treatment for a common medical problem. High school teams compete in a case completion each Spring, where the winning team receives scholarships.
Introduction to Rural Health

 
2015-16
2016-17
2017-18
MS1
29
34
21
MS2
19
30
28
FAMP 1698: Rural Immersion Week (Summer before MS2)
This one-week elective course is held the summer before MS2. Students live and train in a small town working side-by-side with local physicians in inpatient and outpatient settings. Additionally, students meet with community leaders from various agencies including: local businesses, state assembly, public health, hospital administration, behavioral health, and hospice to delve deeply into the rural health needs of the host community. Students provide mentorship to local high school students, and spend time volunteering in the community. For their final project, students work together to create a short video of their experiences to share with the host community upon completion of the week's events.
Immersion Week

2015
2016
2017
2018
4
12
22
18
FAMP 1650: Rural Medical Education Program "RMED" (MS3)
RMED is an elective course tied to a clinical site placement for third-year medical students. Participating students complete three (of eight) core clinical rotations including: Family Medicine, Surgery and Emergency Medicine at a rural, or small town, clinical site. For the elective course, an emphasis is placed on the continuous and comprehensive care of patients. Students develop skills in the diagnosis and management of a wide range of common ambulatory and secondary hospital problems of patients across the age spectrum. Students participate in office hours and conduct inpatient rounds, laboratory work, night call, and case presentations with community-based attendings. Medical students negotiate site placements with the Assistant Dean of Rural Medicine, Dr. Carrie Roseamelia. A preference for acceptance into RMED is given to students that completed the Introduction to Rural Health course (FAMP1646). Students with academic deficiencies or professionalism concerns cannot participate.
Rural Medical Education (RMED)

2014
2015
2016
2017
2018
15
23
13
17
25
FAMP 1652: Rural Medicine Community Health AI (MS4)
This course prepares an MS4 to assume the role of a first-year resident in caring for patients across the lifespan in an ambulatory Family Medicine Clinic by managing acute and chronic conditions, and providing wellness and prevention care. Students perform all aspects of evaluation and management visits including: taking a history; performing a physical; reviewing diagnostic tests, notes, records; formulating a differential diagnosis; assessing chronic conditions; identifying gaps in guideline and/or evidence based wellness and prevention; formulating and ordering appropriate tests; making appropriate referrals; formulating a treatment plan; providing patient education; providing oral presentation of case; and creating a note for each visit. Case complexity will increase with experience. Patient care activities are directly supervised by attending physicians. . A preference for acceptance into AI is given to students that completed RMED (FAMP1650).