In Focus: September 2023
Robert Slavens, MD, passes after decades of service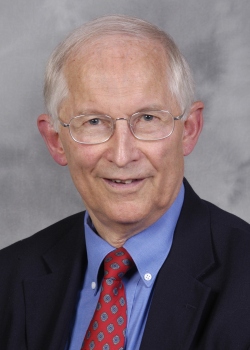 Upstate Medical University patients and students lost an integral part of vision care and vision care education when Robert L. Slavens, MD, passed away in July.
One of Upstate's longest serving clinicians, Slavens's retired in the spring, closing out a career that dated to the 1960s. Every ophthalmologist who trained at Upstate likely benefited from Dr. Slavens' wisdom and humor.
Read more on his life and his impact
More news:
Audrey Bernstein, PhD, was promoted to Professor
Robert Hill, MD, was promoted to Clinical Associate Professor
Carol Miller retires from key role at CVR
Three graduate from residency
Two SUNY Empire Innovation Program scholars join Upstate Center for Vision Research
"Positive" ophthalmology technician passes
Get the details in our September 2023 In Focus Newsletter
In Focus: Winter 2023
January is Glaucoma Awareness Month
Glaucoma is a disease that many people have heard of, but few really understand. It has often been referred to as "the sneak thief of sight." I think that is a very apt description. Unlike other visionthreatening diseases, early glaucoma has no symptoms. Your eye doesn't hurt. Your vision still seems clear. Your eye looks healthy and normal. But while there are no symptoms early on in glaucoma, the disease is at work, damaging the optic nerve..
Read more on the "sneaky theif of sight"
More news:
Center for Vision Research celebrates 25th anniversary
Researchers develop biopolymer hydrogels to grow ocular cells
Department members reach years-of-service milestones
New PhD candidates join the Center for Vision Research
Center for Vision Care welcomes new residents
Get the details in our Winter 2023 In Focus Newsletter
Meet our Current and Future Residents
Past News