Thyroid Center
Joslin Diabetes Center
3229 East Genesee Street
Syracuse, NY 13214
Google Maps & Directions
Phone:
315 464-5726
Fax:
315 464-2510
| | |
| --- | --- |
| Hours: | 7:30 a.m. - 5:00 p.m. Monday through Friday |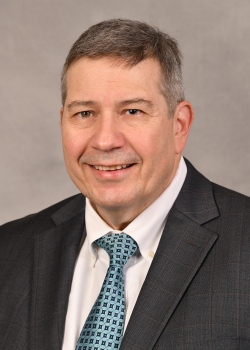 The Thyroid Program includes the Upstate Thyroid Cancer Program and the Thyroid Center.
The Upstate Thyroid Cancer Program
The Upstate Thyroid Cancer Program provides comprehensive care to patients with all types of thyroid cancer.
The team consists of:
Endocrinologists
Thyroid Surgeons
Nuclear medicine physicians
Oncologists
Pathologists
There are outpatient sessions in which an endocrinologist and thyroid surgeon see patients together to determine the best treatment option for each patient. Nuclear medicine physicians and pathologists are available for immediate consultation. We hold a monthly interdisciplinary conference to discuss the management of patients with thyroid cancer and other thyroid diseases.
The Thyroid Center
The Thyroid Center consists of board-certified endocrinologists who are experts in the evaluation and management of diseases of the thyroid. They manage benign thyroid diseases such as hyperthyroidism, hypothyroidism, thyroid nodules, and multinodular goiters.
Our Center utilizes thyroid ultrasonography machines to aid in the management of thyroid nodular diseases. Our endocrinologists, in conjunction with our cytopathologist, perform ultrasound-guided fine-needle aspirations of thyroid nodules.
Our Multidisciplinary Team
Endocrinologists
Roberto Izquierdo, MD (Director)
Rachel Hopkins, MD
Barbara Feuerstein, MD
Marisa Desimone, MD
Vishwanath Pattan, MD
Thyroid Surgeon
Mashaal Dhir, MD
Mark Marzouk, MD
Nuclear Medicine Physicians
Mary McGrath, MD
Michelle Lisi, MD
Andrij R Wojtowycz, MD
David Feiglin, MD
Oncologist
Abirami Sivaparagasam, MD
Pathologist
Radiation Oncologist
Jeffrey Bogart, MD
Michael Lacombe, MD
Physician Assistant
Danielle Harrington, PA
Jennifer Lansing, PA
Brenda Geloff, PA
Georgiy Yegiazarov, PA
Molly Minko, PA
Nurse Practitioner